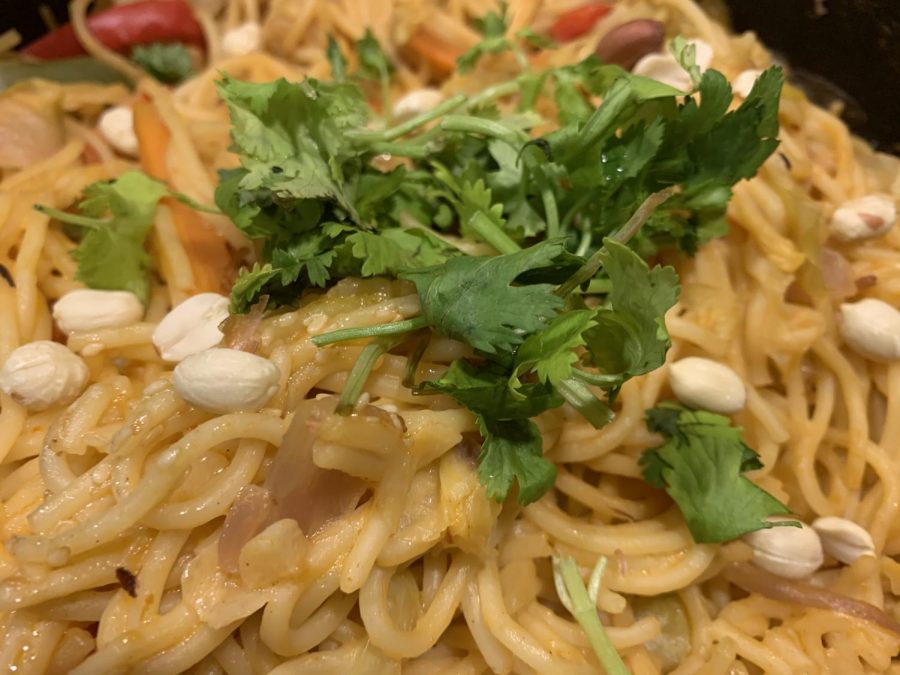 Shravya
The first time I tasted my mother's signature noodle dish was not at our home, but at a friend's house. We fell so in love with their cooking that my mom had to get the recipe. With just a few tweaks and a couple of extra ingredients, our family's iconic dish was born. 
Our family prides itself on diverse cooking. Lunches consist of traditional South Indian rice, of course, but dinner is always unpredictable. My sister and I take after our parents' love for interesting kitchen surprises, which only makes it natural that we adore this unique recipe. It has elements of East Asian cuisine (the soy sauce, sesame seeds and cabbage), Italian cuisine (the angel hair pasta we typically use) and a special twist – a mystery paste made of the unusual mixture of ketchup, soy sauce and peanut butter that gives the dish a special kick. 
Though this dish may not belong to a specific cuisine, that is what makes it feel more like home than ever. Now, you can try a taste of Mahesh family cuisine – prepare for an exciting ride. 
Allergen warning: this recipe contains peanuts (optional) and peanut butter. 
Serves 4
Cooking time: 45 minutes – 1 hour
Ingredients: 
¾ lb angel hair pasta or other noodle/pasta equivalent 
½ red bell pepper, cut into short strips 
1 green bell pepper, cut into short strips 
2 carrots, peeled and cut into short strips 
½ large cabbage, cut from the top of the rounded part down 
1 inch piece of ginger, skin peeled and minced 
3 cloves of garlic, peeled and minced 
1 large onion, cut into long strips 
crushed red pepper, to taste 
1 tbsp sesame oil 
2 pinches of salt 
Oil
For the sauce: 
2 ½ tbsp peanut butter 
3 tbsp ketchup 
1 tbsp soy sauce
1 tbsp vinegar 
Garnishing: 
scallions, diced, to garnish 
cilantro, to garnish 
peanuts, to garnish (optional) 
sesame seeds, to garnish 
Directions:  
Add water and a pinch of salt to a pot. Cover and bring to boil on high heat. 
If using hard pasta, break pasta into halves and add to boiling water. If using noodles, simply place in the water. Bring the temperature down and let sit. Stir occasionally until cooked. 
TIP: Place a wooden spoon on top of the pot so water does not overflow. 
Once pasta is finished, remove from heat and let sit. Strain water, then add sesame oil to separate strands. 
Oil large pan and heat at medium on separate stove. 
Sauté ginger and garlic in the large pan. Once both turn golden-brown, transfer into a tiny cup and set aside to prevent burning. 
Add red chili pepper and onions to the pan. Toss until onions turn translucent and golden-brown. 
Add vegetables one at a time to pan. Sprinkle water on top to get them cooking. Mix vegetables and add a pinch of salt. Cook until tender. Add ginger and garlic to vegetables and mix well. 
To make the paste, mix ketchup, soy sauce, vinegar and peanut butter in a bowl until creamy. 
Fold in paste and noodles into pan in installments, alternating between each until fully incorporated. Mix well. Noodles will turn a light yellow-brownish color when fully coated. 
Garnish with sesame seeds, scallions, cilantro and peanuts as desired. 
Follow Shravya (@shravyamahesh) and @CHSCampusNews on Twitter.