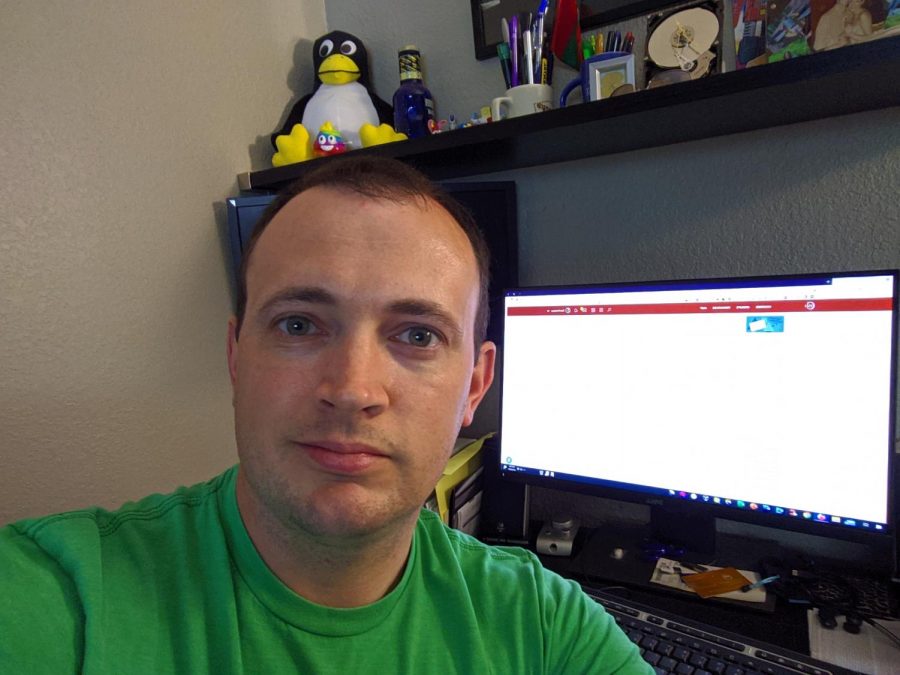 Photo courtesy Tom Portteus
After teaching at Jack E. Singley Academy in Irving for six years, GT Algebra II and AP Statistics teacher Tom Portteus is completing his 13th year in education at CHS and his first year teaching statistics. Portteus has a double major in mathematics and political science from Ashland University in Ohio, both of which inform his teaching and view of the world. 
Why did you decide to become a math teacher?
I've always enjoyed math. I enjoy the problem solving, the puzzle, and the simplicity of the solution.  I wanted to be able to share that with others. I decided to enter teaching at the end of my junior year of college. I spent some time working as a mentor for the local high school and dabbled in some teaching experiences through other organizations, and decided this is what I wanted to do.
Why did you major in political science?
[Political science] interested me, and I felt an obligation to understand the principles that formed this republic. I had some wonderful opportunities as part of that program, including meeting Barbara Bush, Ramesh Ponnuru, Glenn Beck, William Bennett, and a long list of academics, authors, pundits, politicians and public servants. Consequently, I'm a politics junkie. 
What is your approach to teaching?
Basic approach? Teach, practice, assess. That's too simple. I don't like my lessons to be lengthy.  I prefer to hit the basics to get everyone started and narrow my focus to those that might need a little more. I find the stronger students tire easily of repetition by me when they could be getting their work done.
What is your favorite concept to teach?
I'll go with algebra since this is my first year in stats and I don't know enough to have a favorite. Logarithms and exponents. I like it because it is new. Most students have seen everything in that class in some form prior to taking it. Additionally, mastery of this unit is fundamental to success in pre-calculus and calculus.
Why are the subjects you teach important?
Statistics is how we analyze our world and make decisions based on data. It's hard to argue with that. As for algebra, the problem solving developed through that class is huge. It's a night and day difference in what students can do between September and May.
If you could teach a subject that isn't algebra or statistics, what would it be?
I'd love to teach calculus, but that is not in the cards for me anytime soon. I wouldn't mind teaching something in the political science arena, probably the American Founding. That was my second major and I've always found it fascinating. I just lack the discipline to read that much.
What motivates you to teach?
I like seeing students grow. I enjoy the interactions, picking people's brains, getting to know what makes them tick. I especially enjoy seeing them take pride in their work and knowing that it's not a waste of time.
Follow @CHSCampusNews on Twitter.