Bear Hunt spreading love among residents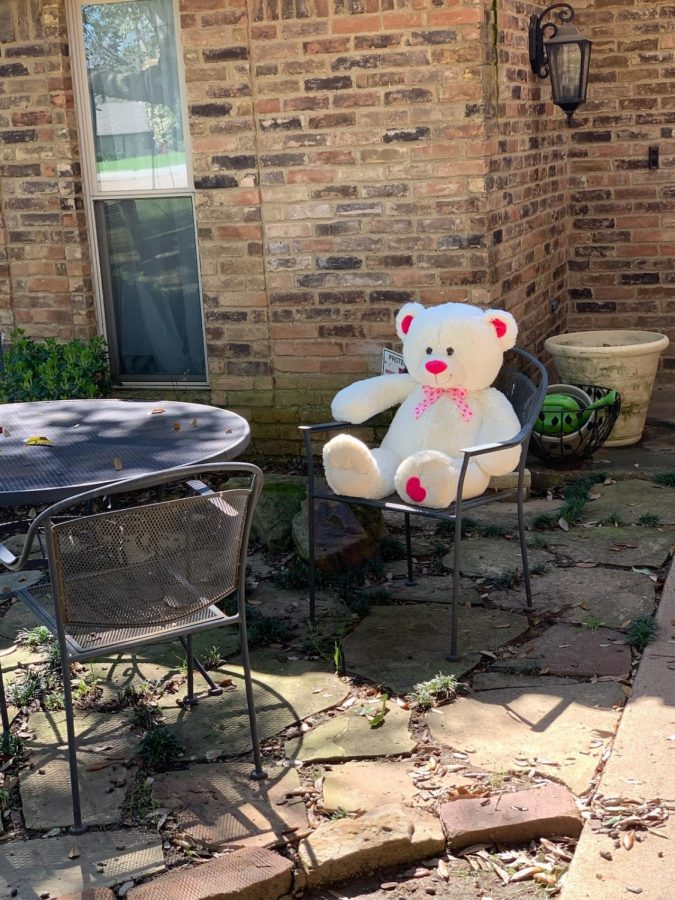 Tracy Tran, Staff Writer/Photographer
April 16, 2020
Smiling faces scan windows for the presence of a teddy bear. 
Kids in Coppell are finding their fun by following the Bear Hunt challenge. Many Coppell residents have joined this challenge, putting animal toys like teddy bears, chickens and even monkeys on their windows or front gardens.
"I have always loved [the story We're Going on a Bear Hunt] and with all of us stuck at home, when the weather is out, everyone is out walking," Coppell resident Meghan Mitchell said. "My kids are 4 and 2 and they have loved looking for bears. We have several bears, a dog and even a monkey. We are all in. It is nice to be a bright spot in someone's day." 
The challenge simply started with a post on Facebook but shortly after, widely received the support from residents at all ages.
"[The Bear Hunt challenge] was a cute idea," Coppell resident Karen Williams said. "I had a big bear so I sat him in a chair at a patio table in the front yard and invited kids to get their picture taken with it. I love the kids book We're Going on a Bear Hunt and thought it would be fun to participate."
We're Going on a Bear Hunt, a picture book written by the Author Michael Rosen and illustrated by Helen Oxenbury in 1989, is the origin of this challenge. 
"I love the idea of giving children and families a fun, wholesome activity to do together," Coppell resident Julie Lowery said. "I am so happy we all live in such a wonderful community that loves families and comes together during both normal and difficult circumstances." 
People in the neighborhood have shared their photos of bears and addresses to find the bears through Facebook posts in a private group for Coppell residents. In a press release issued on March 31, Texas Governor Greg Abbott informed Texas citizens about the Essential Services and Activities Protocols, which highly suggested to remain social distancing. But people can still follow this challenge at home by using the hashtag #GoingOnABearHunt on Twitter or joining the Facebook group of Coppell residents for daily photo updates.
"In this crazy time, with all of the fear, sadness and uncertainty that is going on in the world, watching the excitement of an innocent child spotting a simple teddy bear in a window makes my heart smile and gives me hope things are going to be OK," Coppell resident Leanne Guerrero said.
While the Bear Hunt challenge is commonly known as a game for children, to many adults living in Coppell, it's their enjoyment to see the smiley faces.
"We have seen several families walking by see our bears and animals in the windows," Mitchell said. "The kids get excited. It is a great feeling to see a smile on someone's face during this incredibly stressful time."
This challenge spreads the love message to neighbors in the quarantine time, concurrently bringing people together.
"I have seen some [of the bears] both next door," Lowery said, "It is important to rally together and support children and families. Coming together during such difficult times is a blessing for everyone. I am honored and blessed to live in such a sweet and loving community."
Since Coppell ISD's closure, some parents have been concerned about the limitations of online classes. Participating in the challenge, children have an opportunity to learn more about their community and apply the visual examples to other subjects.
"[The Bear Hunt challenge] is something fun for the kids to do," Guerrero said. "It's also something I can use as a teaching tool at home for math or sorting lessons. It gives the kids something to look forward to on our walks as well as gives them learning opportunities without them even realizing it. It gives you a sense of belonging and inclusion while being separated."
Coppell High School National Arts Honor Society students are also encouraged to use their art pieces to support the Bear Hunt challenge.
"This challenge is important to me because I did what I loved, which is art," CHS junior Denise Kim said. "I could [also] make a good impact on kids who were going on bear hunts for their learning."
Follow Tracy (@AnhImtracy) and @CHSCampusNews on Twitter.
About the Writer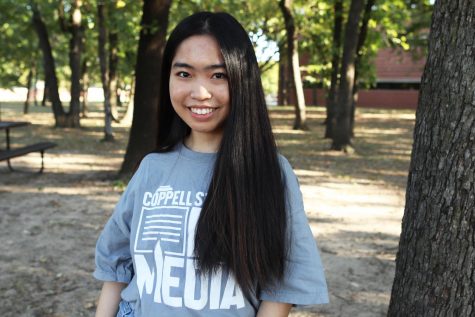 Tracy Tran, Photo Assignment Editor
Tracy is a junior and the Photo Assignment Editor for The Sidekick. She loves to spend quality time with friends, try new foods and volunteer. You can...