Sketching the future of peace
Middle school artists recognized on international level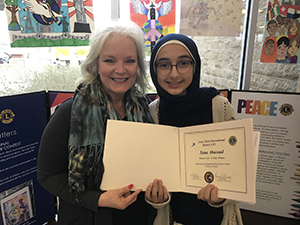 Extending from the olive tree, a multitude of branches represent flags from all over the world. Surrounding the citizens cultivating the growth of the tree are symbols of peace, love and liberty. To Coppell Middle School West eighth grader Sana Abusaad, this is the "Journey of Peace."
The poster described above was Abusaad's submission to the Lions International Peace Poster Contest. Abusaad won first place at the club, district and multi district level and advanced to the international competition.
The contest, sponsored by the International Lions Club, has been held for three decades and is open to students aged 11-13. It aims to give students the opportunity to express their unique visions of peace through art. The 2019-20 theme was "Journey of Peace" where students were encouraged to understand and convey their interpretation of the ideal.
"To me, the peace poster is a really great opportunity because it is that middle school range that is quite often overlooked," state coordinator Karen Murray said. "But when you look at the pictures and just ask kids to start drawing, it's just absolutely amazing."
CMSW art teacher Gail Cary was inspired by the message of the contest and started participating in it four years ago.
"Many kids these days want to enter a contest because they like to challenge themselves," Cary said. " I wanted to be sure I'm offering that challenge to my students. It's a very worthwhile contest, and it opens them up to see other cultures and think about how they can get the peace message out there as an artist."
Abusaad, who has been learning art since she was 6, was one of the students who was up for the challenge. As this was her first year taking art in school, she was excited to have an opportunity to showcase her interests.
"I have a passion for art so I enjoyed working on this project because I always sketch everywhere," Abusaad said. "I would work on it for an hour every night for a month because it was fun."
Especially as the contest was optional, completing the poster involved a lot of hard work outside of class. After coming up with her general idea, Abusaad had to create a rough sketch, transfer it to a larger paper and outline, color and shade. Her work ethic was not unnoticed by Cary, who credited her success to her hard work and discipline. 
"She's super conscientious, very disciplined and a sweet person inside and out," Cary said. "Her personality is such that she's just a disciplined student who also enjoys the challenges and enjoys being here."
While working on the poster, Abusaad wanted to convey the "Journey of Peace" through classic symbols of peace while emphasizing the importance of teamwork.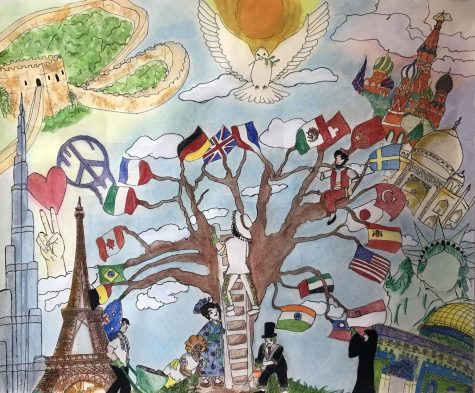 "People express peace in many ways and this is a way of showing my idea of peace," Abusaad said. "I want [the poster] to represent how when all of us work together, we are able to make peace. All of these people worked together to build this tree and all of the flags come from the same tree because they come from the same roots."
To Murray, who has been the district contest coordinator since 2009 and the state contest coordinator since 2019, the contest is more than a simple competition. It gives students the opportunity to look past the traditional depictions of peace and come up with their own interpretations. By using art as a medium to convey a global message, competitors are encouraged to utilize their creativity to foster change.
"A lot of people just don't think about how art is another form of interpretation," Murray said. "Art is another form of expressing yourself."
Cary, who has been an art teacher for 21 years, thinks art visualizes feelings and emotions to inform the public about the world.
"It's important to get kids to think about their future, the future of our world and how we aren't different from each other in the major ways that count," Cary said. "This is one of those avenues that helps them realize that."
About the Contributor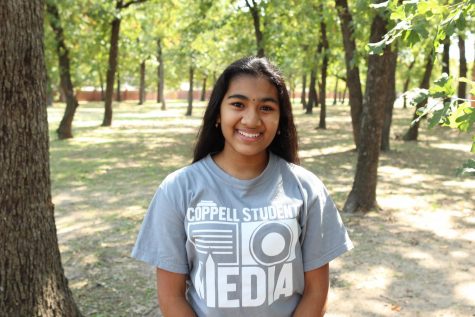 Avani Kashyap, Daily News/Assignment Editor
Avani Kashyap is a senior and the Daily News/Assignment Editor for The Sidekick. She loves animals and you can find her talking about her dog all day....