Double tasking as students, essential workers
When Coppell High School senior Jane Kim was called into work on a day she had off, she assumed she was just picking up a shift because another worker did not show up. When she arrived at the Tom Thumb on N. Denton Tap Road, she found something very different: panic buying due to COVID-19 fears. 
"When I came, it was just busy, every cash register had lines of people," Kim said. "People had items that totaled up to hundreds of dollars and it was just the same amount of items and same amount of totaling the price for every person, it was really bad." 
Kim is one of the many CHS students considered essential workers exempt from Dallas County's shelter-at-home orders, meaning they can still leave their homes to work. These workers include grocery store employees, fast food workers and medical staff. 
Kim works the same hours she did before school was canceled: weekends and three weekdays. On weekends, her shifts vary, and on weekdays, she tends to work from 6 p.m. to 10 p.m. While the rush of panic buying has slowed from the original wave she faced, Kim still sees many issues.
"Sometimes, we have to talk to them about, 'Hey, we have limitations on how much of this item you're trying to buy right now, you can have this much but we have to take the rest of it back,' and most of the time, they're understanding," Kim said. "Sometimes, they can get really aggressive or angry. It can get a bit stressful. It's understandable that they need the item, but other people need them as well." 
Other grocery store workers in locations, such as Kroger, are facing the same issues.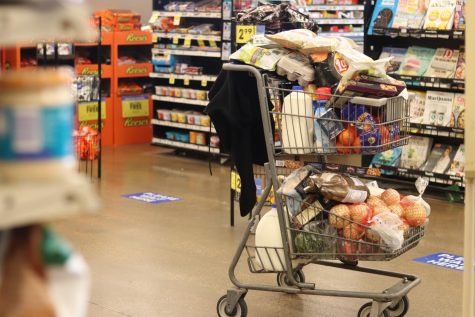 "We're out of a lot of things, so a lot of people are upset about that," CHS senior Kroger employee Victoria Wiegand said. "It's been a lot busier, so I haven't had a lot of time at work to fully get everything done."
Wiegand works with online orders at Kroger, gathering shopping lists placed online. Though she would originally see 20-25 orders, the numbers have skyrocketed as more and more people use the online shopping feature to avoid being out. 
"Now, we're seeing a hundred orders each day and we're slowly opening it up, that way we're adding people [to the] online sector because of the coronavirus," Wiegand said. "We're trying to accommodate more to the people in the community."
Some changes in the workforce are more minor. For example, the popular fast-food chain Sonic Drive-In still serves food, with the minor change of cleaning and how food is delivered. 
"Operationally, [there is no change], but corporate released a new cleaning list along with new cleaning materials saying that we have to clean certain things such as door handles and trays more often than we would," CHS senior Ethan Tan said. 
Tan, who works as a carhop at Sonic, takes more precautions when delivering food to cars.
"It's encouraged to be slightly further, to not go up directly to the car, to hand the food at more of an arm's length distance instead of fully approaching them," Tan said.
Tan works once or twice a week, with shifts ranging from three to five hours. His schedule has not changed since school's closure, and his job does not interfere with his ability to complete online schoolwork. 
However, not every student is so fortunate.
"I remember when the panic buying was happening, I was sacrificing a lot of time that I could have for online school to work on the things I need to just so I could go to work," Kim said. "I remember just being so exhausted by the end of the day that I just had piles of homework continuously going up and up and up. I felt so overwhelmed and so stressed out. I'm really glad that panic buying has slowed down a lot so I can work on homework and I'm glad that [for]  online school, they give you the whole week to do it."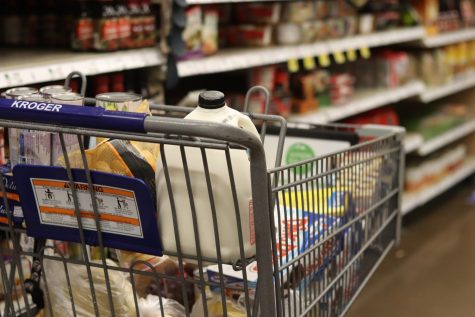 With Coppell ISD's transition online and to a pass or fail grading system, as well as the postponement of SAT and ACT testing, one would think the tutoring business would be in decline. However, the peer tutoring program EZ Tutor has transitioned to an online platform and has seen business booming. 
"Nobody knows when things are going to return to normal," CHS junior EZ Tutor Head of Operations Sid Sabhnani said. "What that means is that people are preparing for their tests like they normally would be but there's uncertainty. We're not planning around a certain date, but people who are planning to do SAT and ACT tutoring are just preparing with the idea that they are eventually going to take it, which is kind of weird, but it's the best thing to be doing right now and the only thing we can do."
Sessions have shifted to Zoom meetings rather than the traditional in-person meetings done at a library or coffee shop.  
"The demand for online tutoring has never been up higher, of course," Sabhnani said. "There's no other option. [The clients] are super excited…Everyone has been really receptive to the idea. It's working well because people need it and want their kids to be either catching up with their school work or advancing with their school work."
Though not essential workers, EZ Tutor has seen an increase in clients and in tutor applications, showing a growth in business despite the situation. 
"For our business, it's just been different, honestly," Sabhnani said. "We've gotten more customers, but the amount of work it is to do online, we prefer to run our traditional business model. I'd say our business is going to do better because kids aren't going to school so parents want them to be learning."
Follow Sally (@sparampottil) and @CHSCampusNews on Twitter.