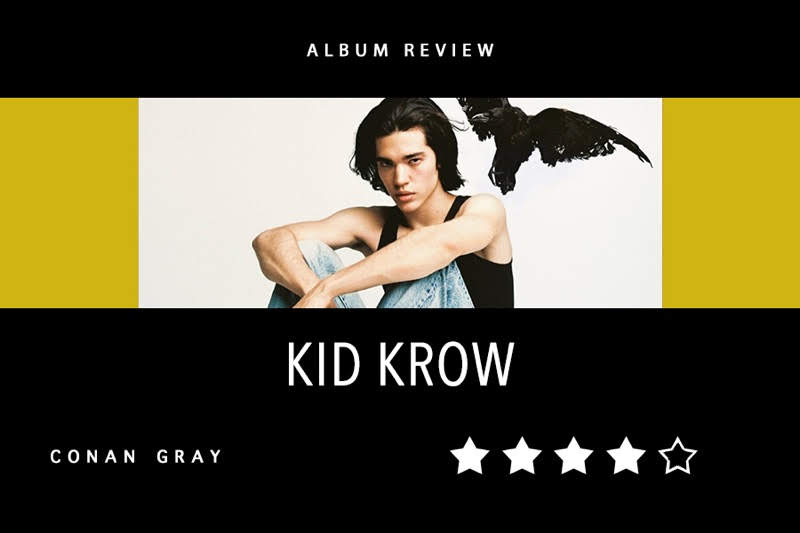 Blanche Harris
As the lyrics rush into my ears, I close my eyes, letting the words take me over. And suddenly, tears are spilling down my cheek, salty and sad like the words singer-songwriter Conan Gray croons into my earbuds. 
It is hardly a surprise I found myself crying over Kid Krow, Gray's debut studio album. For months before its March 20 release, he teased the album on social media, revealing how personal it was. And that it is – the album is an intricate peek into a world of heartbreak, loneliness and insecurity. 
One of the most particular aspects of Kid Krow is its tactful arrangement. The album opens with "Comfort Crowd", an unassuming soft rock track carried by Gray's haunting vocals. From here, the following tracks build on each other's energy, going from cool Taylor Swift-soundalike "Wish You Were Sober" through retro-inspired party anthem "Maniac" into powerful rager "Checkmate". On the surface level, they are great, high-production singles, but upon closer inspection, it becomes clear that Gray has given lots of attention to the immersive story each song tells. 
The energy is interrupted by "(Online Love)", a roughly 30-second interlude detailing the shortcomings of long-distance relationships. Being lodged in between "Maniac" and "Checkmate", it risks seeming awkwardly placed, but instead, it foreshadows slower songs to come, with only guitar to back Gray's vocals. 
In fact, much of Kid Krow shares the same acoustic production. Aside from the mocking satire of "Affluenza", the rest of the album falls into "Comfort Crowd"-esque soft rock. But the instrumentation serves a unique purpose – for instance, in "Fight or Flight", a desperate, angry plea to an unfaithful lover, the loud riffs help to emphasize certain lyrics over others, alluding to the jarring, broken relationship. "The Cut That Always Bleeds" saves its loudest tones for the chorus, making the oh-so-emotional lyric "I don't love you anymore / a pretty line that I adore / five words that I've heard before" sting twice as hard and Gray's crooning vocals shine thrice as much. And the underlying drum of "Little League" feels like a throbbing heartbeat, aching to go back to the old days.
Unfortunately, this may be Kid Krow's fatal flaw. Aside from its short runtime of just over 33 minutes, the tracks are almost too similar to one another. Even after multiple listens, some of the songs blend together, making it difficult to pick any one out. Though they fit well together thematically and sonically, I am not so sure I would listen to many on their own. 
However, this is not the case for crowning jewel "Heather", an acoustic guitar-driven ballad in which Gray details a heartbreaking memory in painstakingly vivid detail. Not only are his pure, raw vocals on display clearer here than anywhere else on the album, but his songwriting skills truly shine. It is the quiet post-bridge repetition of "why would you ever kiss me / I'm not even half as pretty" that truly makes the listener's heart ache. It is so honest and unfiltered that it almost feels like an intrusion into Gray's deepest, darkest thoughts. But it is unmistakably well done. 
The album's closer, "The Story", aptly tells the clear, full story about Gray's difficult past. However, despite the sad tale it tells, it ends with a glimmer of hope, saying "it's not the end of the story". It is a satisfying conclusion, neatly wrapped up with a bow. 
At only 21, Gray has cemented himself at the forefront of the next generation of artists and storytellers. With an original voice, personal stories and immense talent for telling them, he has proven himself a diamond in the rough. And hopefully, he is here to stay.
Follow Shravya (@shravyamahesh) and @CHSCampusNews on Twitter.