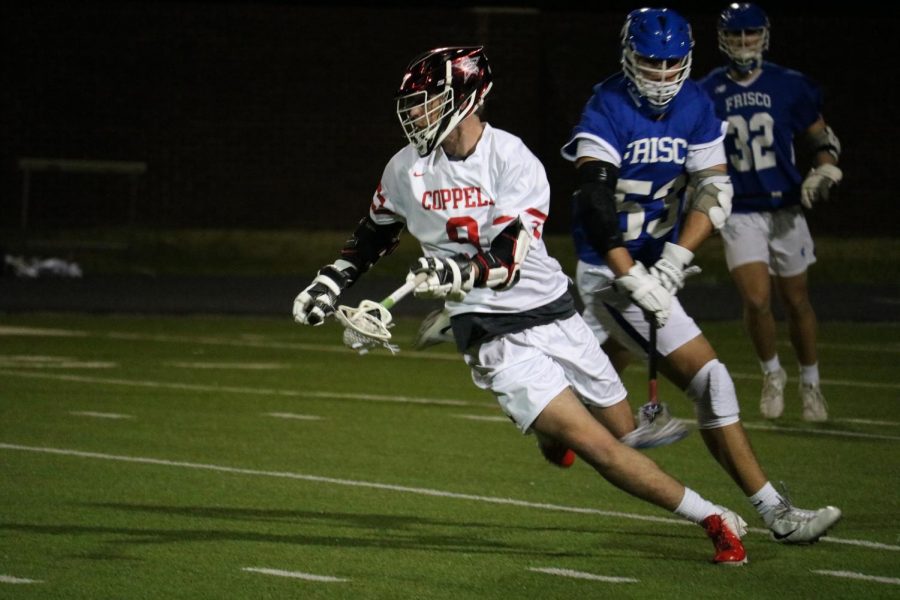 Tracy Tran
On a cool, breezy Thursday night, the Coppell boys lacrosse team took on the Frisco Blackbears at Coppell Middle School North, winning, 15-7.
Going into the game, the Cowboys knew that they were going to be matching up with a physical and talented Frisco team.
"[Frisco] is a good team across the board," Coppell coach Matt Mueller said. "They're very well coached, we knew it was going to be a battle from the get-go."
The Cowboys got their dominant offense rolling early in the game and it set the tone. 
Senior attacker Leo Swaldi and junior attacker Gavin Osteen combined to score eight goals, one of which was an exceptional behind-the-back no-look shot by Swaldi deep in the fourth quarter.
"Kid is a magician," Coppell senior midfielder Max LaMendola said. "[Swaldi] has been a rock for us down in the attack position, very consistent, always flashy, great for our morale."
While the Cowboys were dominant offensively throughout the first half, their defence gained momentum in the second half, ending many offensive drives by the Blackbears and limiting them to just one goal. 
Throughout their season, the Cowboys have struggled with faceoffs and ground balls. Thursday night seemed to change that as LaMendola won a resounding 16 faceoffs and the team won 24 ground balls.
"If we control faceoffs and ground balls, it leads to possession, we have an opportunity to score if we have the ball and [Frisco] in turn can't score," Mueller said.
The Cowboys play Lovejoy for senior night at Coppell Middle School North on March 17. at 7:30 p.m.
"[Lovejoy is] a D2 team but as far as D2 is considered, they're one of the better D2 team out there this year," Mueller said. "They've got a few guys going Division 1 [in college], they're well coached so it's going to be a battle, we certainly can't show up and think we are just going to win
With Lovejoy's game marking senior night, the Cowboys think they set the tone and pace going into not only senior night but also the rest of their schedule.
"Our guys really self-reflected and then we reflected as a team," Mueller said. "Again we had great film sessions, we had a great week of practice, and it's an entirely different thing to say it but the guys backed it up in practice and then it carried over into the games."
Follow Meer (@meer_mahfuz) and @SidekickSports on Twitter.