Ward bringing sparkle to classroom as 2019-20 CHS9 Teacher of the Year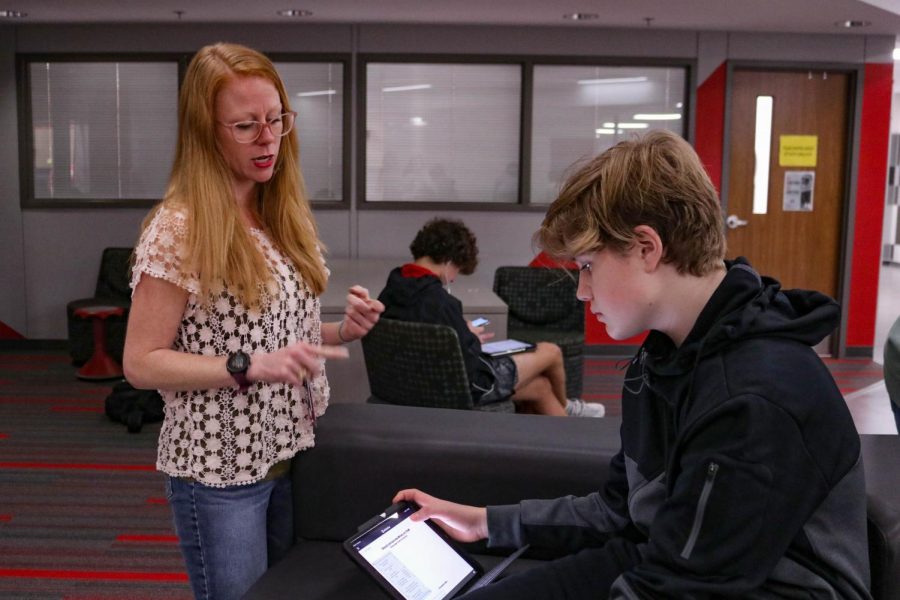 CHS9 GT/Honors English I teacher Summer Ward is known on her campus for many things, including her bright attitude, compassion, dedication and indescribable ability to connect with students. 
Ward's personable and motivational teaching style was fully recognized when she was chosen as CHS9's Teacher of the Year on Dec. 13 for the 2019-20 school year. 
Ward has been teaching for 10 years and taught at Coppell High School for one year before starting at CHS9 last year when the campus opened to students. She values the relationships she builds with students and other teachers in creating an environment and campus welcoming to everyone.
"My students aren't just my students, they're my kids," Ward said. "My team of teachers aren't just my team, they're my friends."
Teacher of the Year nominees and winner were announced in a faculty meeting in December. A video crafted for the winner was shown at the meeting and included photos, videos and quotes from students and staff. Ward was unaware she won until the video started, making the announcement even more emotional. 
Ward's daughter, Chloe, who is a kindergartener at Town Center Elementary, surprised her mother with two dozen roses as the video played. Ward's mother was also at the faculty meeting to congratulate her daughter.
"I lost it and cried as soon as I saw my daughter there," Ward said. "It was a really powerful moment and seeing my mom there crying for me was big, too. It meant a lot to be recognized in that way, especially with Chloe and my mom there."
CHS9 biology teacher Laronna Doggett, principles of health science teacher Bill Borowski and Spanish teacher Reyna Conger were also nominated for Teacher of the Year.
"Having a Teacher of the Year is a nice way to notice the hard work teachers put in every single day," Doggett said. "We spend so many extra hours on campus, trying to provide the best for our students and receiving recognition is so rare as a teacher."
All CHS9 staff members have the opportunity to nominate a coworker for Teacher of the Year, according to CHS9 Principal Cody Koontz. Teachers have to meet two requirements to be nominated: they have to have been teaching for at least three years and planning to stay in Coppell ISD.
"Selecting a Teacher of the Year is so important because teachers don't get enough recognition for everything they do for their kids," Koontz said. "Teaching is one of the most difficult jobs. It's remarkable to think about what teachers do for their kids who all have their own passions, interests, learning styles and are each so different from one another."
A committee of administrative staff, teachers, parents, business partners and other community members form a neutral committee to select the annual Teacher of the Year. Names are redacted from nominations to ensure fairness.
"One thing I make sure of is kids feel comfortable coming into the classroom and being themselves," Ward said. "Whether I'm making jokes or telling personal stories, my goal is to make sure every kid feels loved and like they belong in my classroom. Having a bond with students helps translate into a love for books and school, too." 
Koontz described Ward's wit, sarcasm and charisma that engages her students and her ability to connect with them beyond class material.
"[Ward] has a glow and sparkle about her," Koontz said. "She brings out the best in people and the environment she creates in her classroom is so unique. All of [Ward's] kids know she cares about them and wants them to succeed, which is why she's such a special teacher to have on campus. She has the 'it' factor that can't be materialized and fully described with words. We are so lucky to have her on campus."
Follow Emma (@emmameehan_) and @CHSCampusNews on Twitter.
About the Writer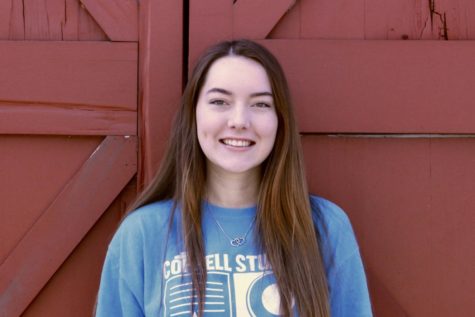 Emma Meehan, Staff Writer
Emma is a senior and second-year writer on staff. She likes to read about politics and history, hang out with friends and do yoga. You can reach her at...