Wang weaves confidence into artwork, wins regional VASE competition
Taking a step back after more than 60 hours of work, CHS9 student Jeffrey Wang breathes a sigh of relief. His piece, "OK, Jose", qualified for the state Visual Arts Scholastic Event (VASE)  Division 2 competition on Feb. 22. 
"I first chose the theme, which was the dilemma high schoolers are focusing on: if you should focus on your dreams and retain what you've done for the past 15 years, like your innocence and personality, or should you conform to society," Wang said. "As you get older, you see life isn't always rainbows and sunshine and we all experience and react to [life] in different ways. I wanted to convey to others to just be yourself."
To create the portrait, Wang took multiple pictures of CHS9 student Josh Campbell and portrayed him with a realism focus. 
"My thought process was that I wanted to do a portrait displaying innocence, like biting things, pacifiers or something that would remind you of your childhood," Wang said. "I dragged [Campbell] into the closet in CHS9 art instructor Elsa Reynolds's room where I used a bright studio light and started taking a bunch of photos of him, and I told him to act out something he would do if he was younger, so he started to bite his ID."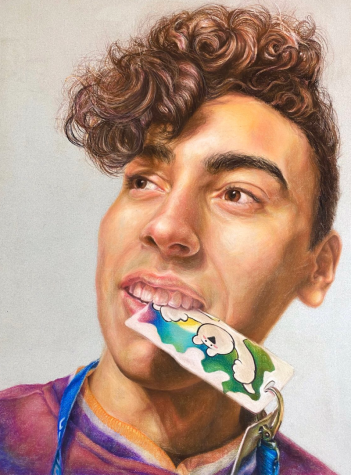 As a student in Art II honors, Wang utilizes the freedom of open-ended assignments to experiment with his style. 
"I give my students a choice of subject matters to allow them to create artwork that they really are interested in and means something to them," Reynolds said. "I've been able to see how much work and time and dedication [Wang] puts in every day. Usually, he has too many ideas or too many sketches and he even has alternative versions of his final [art piece], so he really does work very hard."
Wang has not yet fully recognized his style, though it is very present in his artwork.
"I've been trying to diverge from [realism] to my own style, which is always present when I try to draw my own handwriting," Wang said. "The great thing about high school is the experimentation and finding out what I like. [VASE] was just a trial and step towards improving my knowledge about color."
For Wang, art has been a crucial part of his life since the tender age of 5, as he started experimenting with the abundant art supplies in his house from his sister CHS senior Celeste Wang's previous experiences.
"Everything I have done is following [Celeste's] footsteps," Jeffrey said. "Whatever she liked, I would always fight over it and obviously my sister is very good [at art] and I wanted to be like her. For most of my childhood, I also had manga and anime, which also was from my sister, that inspired me to start drawing."
Celeste, who is in Division 3, the competition level for students who have been in art for three years, also qualified for state VASE this year for her piece "Sleeping Beauty", a black and white portrait of CHS senior Claire Cheon.
"The amount of dedication [Jeffrey] puts in makes his artwork incredible, while also letting him get better at art," Celeste said. "At first Jeffrey was very shy about art, he didn't know if he was good at it, but through his continuous urge to do better, I've seen him improve exponentially. It always amazes me how fast he is able to get better at art." 
Jeffrey has taken his love for art and shared it with the local community by painting sunflowers at The Gatehouse, a non-profit organization that offers a safe space for women and children who are overcoming crises. 
"[My art] isn't world-changing, but it is a step towards it," Jeffrey said. "For me, I think of just making one person happy or if I can just make someone's day. My sister has been doing an art project for The Gatehouse and I've also helped there by drawing sunflowers. It shows the impact we can create from something as simple as a sunflower. Even though it might just be one artwork, it could be a life-changing decision for someone who's not as fortunate as us."
Jeffrey accredits his skill in art to his art peers and the various art teachers inside and outside of school who have guided him by demonstrating new techniques and showing him the importance of understanding the reasoning behind certain art pieces. 
"Jeffrey had me all three years of middle school and what I have seen him grow the most is his increase in confidence in himself," Coppell Middle School East art instructor Jillian Richards said. "He started to really trust the process and the self doubts disappeared."
Follow Laasya (@Laasyapa) and @CHSCampusNews on Twitter.