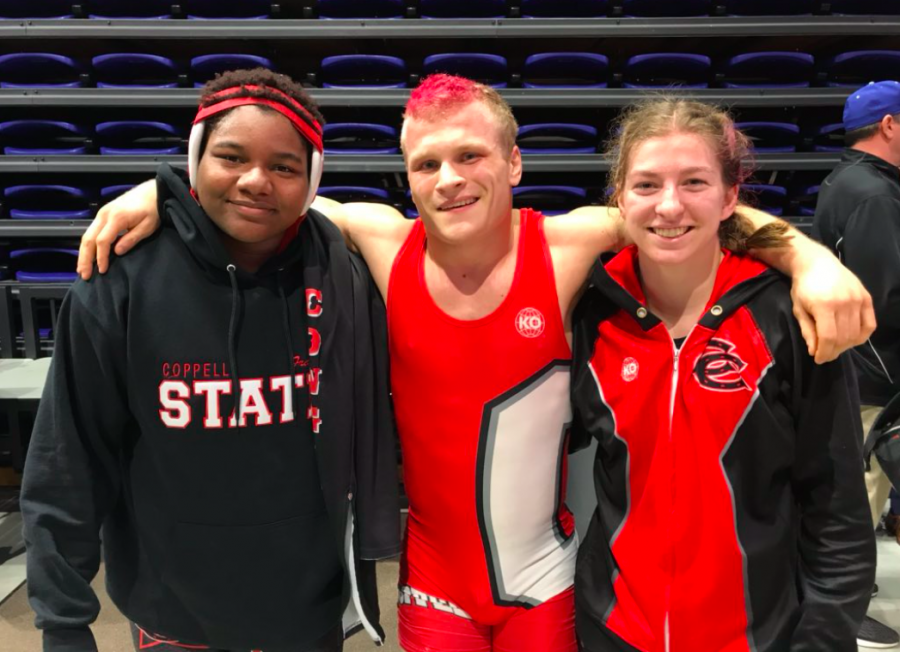 Friday and Saturday's wrestling UIL State Championship in Houston produced three high place finishes for Coppell, rounding out the 2019-20 season.
Two Cowgirls collected a top three finish, junior Hannah Francis and senior Brooke Massaviol. Francis competes in the 215 pound weight class and Massaviol competes in the 148 pound weight class. 
The only Cowboy to make it to state, senior Jackson Briscoe, finished in fifth place in the 170 pound weight class. 
"Placing at state means so much to me," Briscoe said. "I spent a lot of time looking up at the names on the board as a kid and seeing my own name up there this year is something I'm really proud of. I'm proud of making it to state and having the mental toughness to stay in the tournament and place. It's hard to deal with the mental exhaustion that competing at state can cause."
Sixteen wrestlers competed in each weight class and five athletes in each class placed. 
"I'm really proud of us as a team," Massaviol said. "We had several first place finishes at tournaments throughout the season and also had four girls make it to state, and I know the team will do even better next year."
Coppell sophomore Maria Husain and freshman Scout Carrell also qualified for and wrestled in the UIL State Championship. Husain competed in the 95 pound weight class and Carrell wrestled in the 110 pound weight class.
"A lot of people coming up from the JV wrestling team had to learn to handle losing this year," Briscoe said. "Going forward, hopefully [losses] can be used as motivation and help make the team better in future seasons."
Follow Emma (@emmameehan_) and @SidekickSports on Twitter.