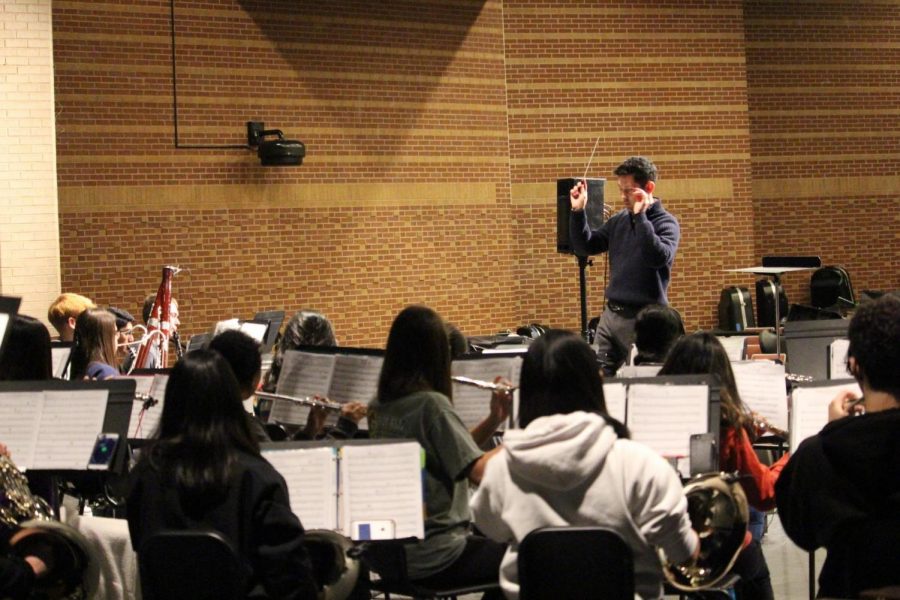 Elaina Hair
Tonight, the Coppell band is hosting the Coppell High School Ensemble Festival from 5-9 p.m. at CHS. This marks Coppell's first independent ensemble festival dedicated to improving band students' ensemble skills in smaller chamber ensembles to the full band. 
The festival involves smaller groups of students, ranging from duets to up to eight people, selecting musical pieces and performing them in front of one judge during a 10 minute time slot. 
The students will be judged on their preparedness, their skill level with their instrument based on their grade and musicality as per a rating system from I to V, with I being the best. The judge and the band directors present will provide constructive feedback within the 10 minute time slot, as most ensemble pieces being performed range from four to six minutes in length. 
Unlike UIL Solo and Ensemble, which the festival is being held in replacement of, there is no aspect of competition that determines each school's ranking. The festival is amongst Coppell band students only. 
"The idea is them being able to work on ensemble skills together in smaller groups where they are more responsible, kind of like a small group setting in a normal classroom," CHS assistant band director Brandon Slovak said. "Students have always been able to do UIL Solo and Ensemble, but we've never done a program-wide [ensemble festival]. "
Along with various online resources, students have been provided an average of 20 minutes to practice their pieces with their ensemble at the end of every class period since the beginning of the spring semester. 
"It's just a bit of [practice] time everyday," CHS sophomore flute player Kelly Kim said. 
Kim will be performing Anouchka, composed by Pierre Paubon, with sophomores Eden Kim and Anika Dachiraju and junior Christy Park. 
"[I'm worried about] just little things at this point because we have all of the notes and musicality down," Kim said.
Playing together in a chamber ensemble proves to be challenging, as musicians must match and balance each other's sounds. One student may have the melody and the others with the accompaniment, and they may even switch between parts. 
"The most difficult part is definitely balancing each other's styles," CHS junior clarinet player Samantha Chen said. 
Chen will be performing Canzonetta, composed by Felix Mendelssohn, with sophomore Prerana Kalapatapu and seniors Alyssa Ramos and Matilda Lee. 
"We all play very differently stylistically. I'm most worried about maintaining a tempo," Chen said. "We're not allowed to have a metronome, and [keeping tempo] has been one of our biggest problems while practicing. [Along with that], trying to stay together [is a problem as well]." 
A total of five judges across five rooms will be responsible for judging the students. The feedback is to then be used to hone in on the students' abilities to play in larger ensembles. 
"[Students] may be struggling with the musicality behind [the piece]; they may not understand the historical context of it," Slovak said. "Hopefully, they know what to do the next time [they are in an ensemble]. They know there are these takeaways of being able to play musically and being able to understand their role in the greater picture of whether it's a large or small ensemble." 
Follow Akhila (@akhila_gunturu) and @CHSCampusNews on Twitter.