Migault, Pretorius returning to Austin for state championship
One year after then juniors Aurelie Migault and Johan Pretorius advanced to state (Migault for the first time and Pretorious for the second), they are both returning for the 2020 Texas State Swimming and Diving Championships at the Lee and Joe Jamail Texas Swim Center on Friday and Saturday. 
Migault is competing in the 100-yard breaststroke and Pretorius is competing in the 100-yard backstroke. 
Migault is the school record holder for the 100-yard breaststroke, with a time of 1:04.42. Despite a lull in her season, on the first day of the Class 6A Region II Swimming and Diving Meet on Jan. 31, she broke her own school record (which she originally broke last year). 
"I had a mental block halfway through the season," Migault said. "Then I overcame it. From that, I was able to drop a full second." 
In the two week span between regionals to state, Migault has worked on her stamina. She aims to make A finals this year after a 13th place finish last year in consolation finals with a time of 1:06.29. 
"I've been going to two practices per day for two hours each and just tapering, going down in yardage," Migault said.
Pretorius is no stranger to the state meet, having been both his sophomore and junior year. In his third trip, he aims to make A finals for the first time. 
"Every year, I get a little bit better," Pretorious said. "Some peak sophomore year, junior year, but I've seen improvements all my years. I haven't been lifting a lot so I'm not the biggest guy out there. I'm saving the weights for college so I feel like I haven't reached my full potential yet."
Pretorius holds the school record for the 100-yard backstroke with a time of 50.47. He broke the record his freshman year, then in his sophomore year and most recently last year at regionals. This is the only year he has not broken the record again, and that is another of his goals for state.
This year is also the first trip to state he is making without missing practice the week before due to illness. After bronchitis his sophomore year and the flu last year, Pretorious was out of the pool in the days leading up to state. This year, he has gotten to spend the two-week gap practicing. 
"It's going to help me perform well at state like I do at other big meets apart from high school that I feel well at," Pretorius said. "I'm really hoping for a top three finish at state." 
This is the final time both swimmers will be competing for Coppell. 
"I don't really feel sobby about it," Pretorius said. "It is what it is, I'm just excited to go to state again." 
Follow Sally (@sparampottil) and @SidekickSoprts on Twitter.
About the Writer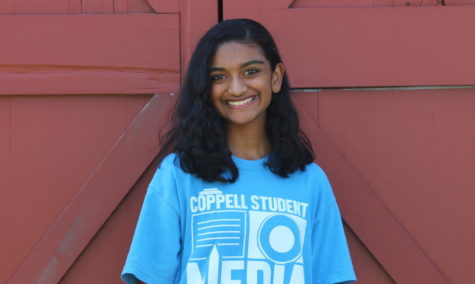 Sally Parampottil, Executive Sports Editor
Sally is a junior and the Executive Sports Editor on The Sidekick. When not working on homework or other school-related activities, she can be found rewatching...