Grappling to top state ranking
Massaviol stands undefeated in season as wrestling captain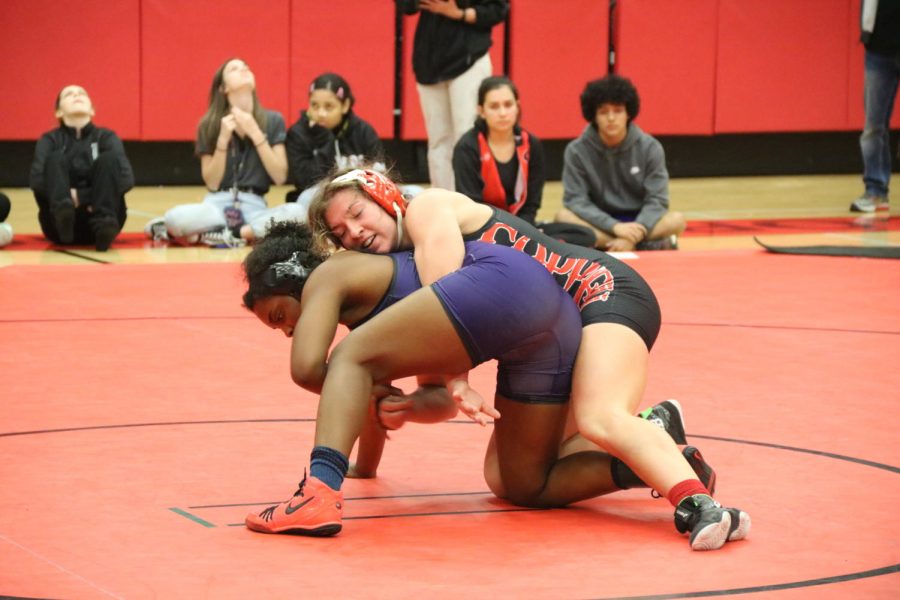 The hardest moment in her wrestling career was the loss at regionals her sophomore year. 
New Tech High @ Coppell's Brooke Massaviol was in the finals – winning. Then, her opponent got a takedown and Massaviol was pinned, losing the match.
"I got yelled at so hard and I was like, 'why am I even in this?'" Massaviol said. "It was a moment I kind of questioned what the point of it all was. Then I went to state [that same year] and watched one of my teammates win state and I went, 'oh, that's why.'" 
After junior year, in which Massaviol went to state again and placed fifth, she now stands as the No. 1 girls wrestler in her division (the 148 pound weight class) in Texas. In her fourth year of wrestling, Massaviol serves as the Coppell girls team captain, having earned three district titles and aiming for a full sweep. 
"It's been crazy, I've grown so much – as a wrestler and a person," Massaviol said. "When I started, I was so quiet and kept to myself all the time. I was really just timid, as most freshmen are. Through the sport, I've become so much more confident in my abilities as a wrestler. The way I approach matches has changed so much now that I have the confidence and in school and life, I just have so much more confidence."
Having begun wrestling as a freshman – as many high school wrestlers lack experience prior to their high school career – Massaviol learned the sport from scratch.
"She's done the full progression you would hope," Coppell coach Chip Lowery said. "Struggled as a freshman, had some success at the end, went to state as a sophomore, placed at state as a junior and now working hard for her senior year."
Massaviol was actually ahead of the curve in terms of her progress – so much, in fact, that Lowery made her captain in her junior year. 
"
It's just about me pushing myself as hard as I can so the other girls know what it's like to work a hundred percent."
— senior captain Brooke Massaviol
"We don't usually have two-year captains," Lowery said. "[Massaviol] always puts in the work. She's worked hard, she's led by example, she's fair in judgment, and she comes out and gets everything done she needs to get done all the time."
Leadership skills are evident to her teammates as well, including Coppell junior Dorian Villalba, who joined the team when Massaviol first became captain last year. 
"She's definitely a leader for the team," Villalba said. "She definitely sets an example. I can personally say she's inspired me, she pushes me to come in every day. I come in before school, I come in after school, we practice on the weekends – she really pushes me. When I mess up, she'll talk to me. When I'm frustrated, I don't really want to talk to my coach because I know he's frustrated and [Massaviol] is just like that in-between person for all of us. She's the mediator, to be comforting but still empowering for the team." 
Despite being a rare individual to be captain for two years in a row, according to Massaviol, actions speak louder than any rank she holds. 
"The title doesn't matter so much," Massaviol said. "It's just about being someone who is always down to practice and always working hard, leading more by example than by telling others what to do. Really, it's just about me pushing myself as hard as I can so the other girls know what it's like to work a hundred percent." 
Softball was actually Massaviol's main sport from age 7 until her sophomore year when she quit because she enjoyed wrestling more. Even so, the sheer vigor of wrestling was much to take in at the beginning.  
"It was a lot," Massaviol said. "It was really overwhelming, really intense, and I wasn't used to it. But, I knew everybody cared about each other so much, that my coach cared about me so much, if he's willing to yell at me and put all this extra work into me even though I just joined. The environment really kept me in the sport."
Overcoming the initial discomfort and working hard throughout her high school career, Massaviol saw the fruits of her labor in her numerous awards, ranging from her district titles to being named Most Outstanding Wrestler in the 2020 Chicken Wing Invitational at Houston Westside after defeating the No. 2 ranked wrestler in the state, Nia Miranda of Cypress Ranch. 
"When I came into wrestling, [Massaviol] was already really good," Villalba said. "Definitely from last year to this year, there's been some huge growth. Last year, she would usually get third or second at tournaments, if she got first place it was like a big deal. This year, she's undefeated. She gets first at every tournament, if there's a struggle, we're surprised. It looks easy at this point."
Follow Sally (@sparampottil) and @SidekickSports on Twitter.