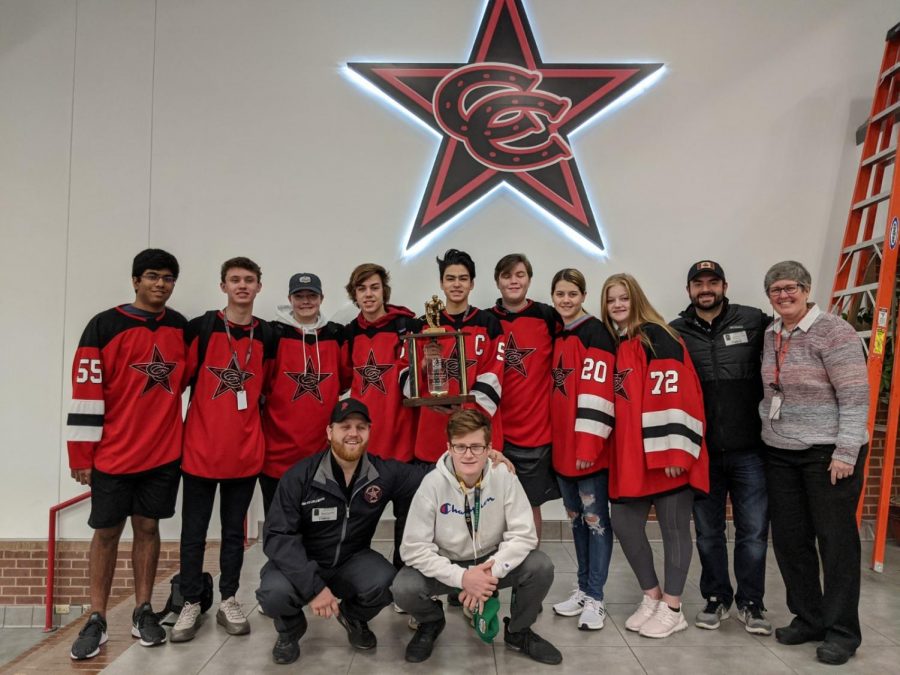 Photo Courtesy Veena Bhat
On Sunday, the Coppell hockey team won the 2020 High School Division 2A State Championship over Denton County, at the Children's Health StarCenter, 7-3, in Mansfield.
"We started off rough, but we knew we had to just power through it, and eventually we won state," Coppell senior center captain Ben Apperson said. "Our whole team was just super proud of everyone because we all worked together. Overall, it was just an amazing experience."
Winning the state tournament os more than just a regular feat. The hockey team has not won state in 16 years, making the win a huge accomplishment for Coppell. 
"Everything we have done leading up to it worked out for us and paid off in the end," Coppell senior left wing Marlee Sprott said. "It's indescribable."
Each member of the team contributed in a part of the accomplishment. Apperson, the win would not have been possible without the whole team, including the right and left wings, goalkeepers and defensemen. 
"They look up to me for leadership since I am the captain of the team," Apperson said. "I also have support from them."
One of the traits of the hockey team is its close bond. The players treat each other more than just regular teammates.This is true especially for Sprott, one of the only two girls on the varsity team.
"They lift me up [and] they always pick me up," Sprott said. "They motivate me so we all work together but more importantly, being a girl, they especially focus on making sure my confidence is there."
What makes this win special on an emotional level is the coach. Coppell coach Chris Shakesby said this might be his last season as the team's coach. The win for the hockey team scored one more accomplishment for the coach before he might leave, making this win a tribute to their leader. 
"This could be our head coach's last year," CHS junior goalie Romy Thibeault said. "It was really big for everyone because we have been working so hard for this for the past two seasons, and it was this final payoff to getting that win that we have been working so hard for."
Follow @sreejamudumby and @SidekickSports on Twitter.