Following Teacher Appreciation Night, girls rout Nimitz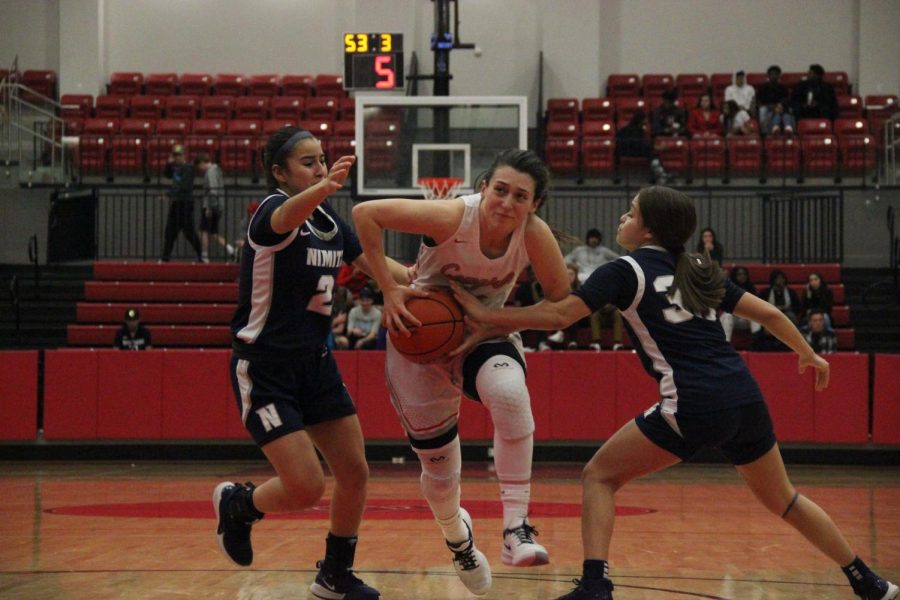 The Coppell girls basketball team closed out the first round of District 6-6A play with a dominating win over Irving Nimitz, 79-38, last night in the CHS Arena. 
Preceding tipoff was a brief Teacher Appreciation Night celebration, in which each player chose a teacher to honor. The player and teacher (who wore a given T-shirt for the event) walked to center court and took photos.  
After the Cowgirls scored the first points of the game off of free throws by Coppell senior guard Nicole Obialo, Nimitz never managed to catch up. While not posing much of an offensive or defensive threat as a whole, the Vikings' most dangerous player was the shortest on the team: No. 30, Nimitz guard Britney Gonzalez, who stands at 4'11.  
"[Gonzalez is] really quick and she's got a quick release and she can shoot," Coppell coach Ryan Murphy said. "They go as she goes. She fills up a lot of points for them, but all the attention she [draws] creates opportunities for everyone else. She was impactful on almost every single one of their points."
Leading scorers for Coppell were Coppell junior guard Chloe Hassman (17 points) and Obialo (12 points). 
"Everyone who went on the court had an impact on the court," Murphy said. "It wasn't something where one or two people carried us, it was a team-wide effort."
The game lasted longer than most, going past 8 p.m. and pushing back the boys' game, which was held right after. This can be attributed to a large number of fouls called.
"It seemed pretty uneven in the first half," Hassman said. "On our side, our defense, if we so much as put a hand on the other girl, they would call it, which isn't basketball. Basketball is a contact sport. In the second half, it evened out, it was better."
 Now with a 3-4 record in district, Coppell is working to make a playoff push to finish the season. 
"It's about forming habits," Coppell Murphy said. "When you're up 40 against someone, like, you're practicing. For us, it was making sure our defensive rotations stayed the same, that we were boxing out, that we're doing all the things offensively, just the little details like screening and cutting, and going off shoulder to shoulder…making sure we are doing that and not losing focus because of the score."
The Cowgirls face MacArthur on Tuesday at 6:30 p.m. in the CHS Arena. 
Follow Sally (@sparampottil) and @SidekickSports on Twitter. 
About the Contributors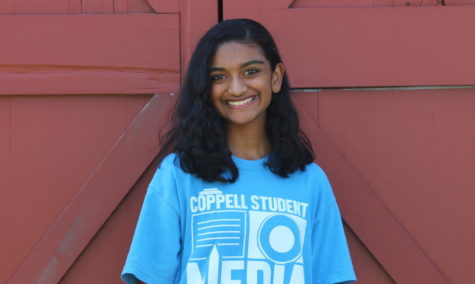 Sally Parampottil, Executive Sports Editor
Sally is a junior and the Executive Sports Editor on The Sidekick. When not working on homework or other school-related activities, she can be found rewatching...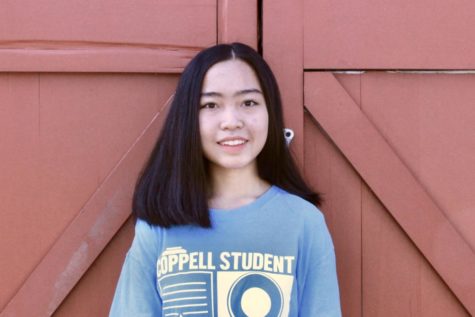 Tracy Tran, Staff Writer/Photographer
Tracy is a sophomore and a first-year writer on The Sidekick. She loves to travel, spend quality time with friends, take photos and try new foods. You...