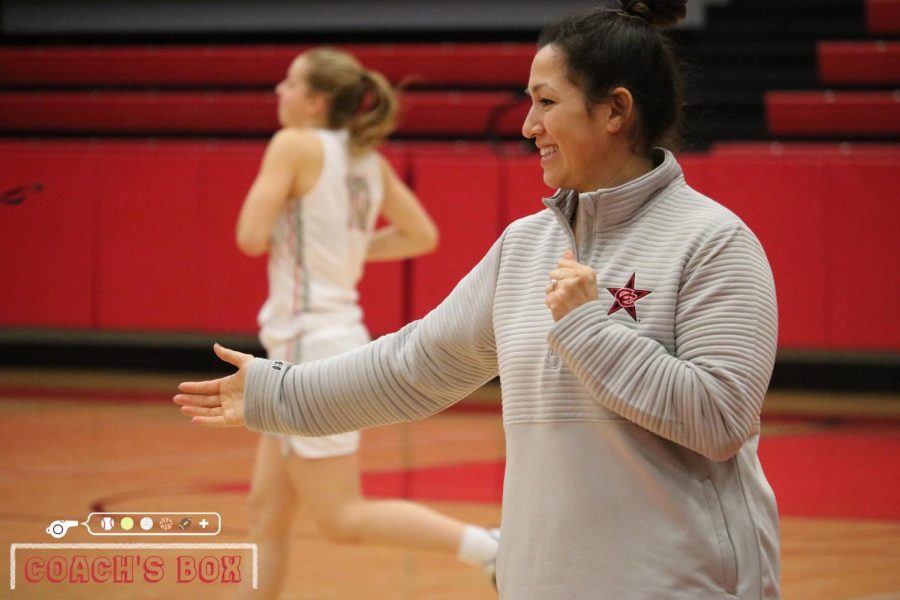 Sally Parampottil
Behind the large gym, on the other side of a Coppell-colored door lies a corridor with a small room labeled "Basketball Coaches Office." This room holds tables, chairs, promotional posters and Coppell assistant girls basketball coach Julieann Hartsburg. With more than 13 years of professional experience, Hartsburg commits herself to the sport she loves and the girls she works with.
How did you first get into basketball?
When I was 8, I played basketball for my dad. I [also] played [at James Bowie High School] in Austin and I played college basketball at the University of Dallas. I graduated in 2004, and ever since, I didn't want to get away from it, so I got into coaching right away. 
What does your job as assistant coach entail?
Anything [Coppell coach Ryan Murphy] tells me to do. Anywhere from scouting reports, helping plan practices, making sure our schedules are organized, driving the bus and making [sure the coach] is good to go for games. Anything extra on his plate, I make sure I try to take care of.
What is your experience in basketball?
This is my third year at Coppell. As soon as I graduated, I worked for the Mavericks and their marketing department for a little bit. I was their street team coordinator and I organized their birthday parties and before games when they would have the blowups and have kids come and everything. My first teaching coaching job was at Sam Houston Middle School in Irving School District. I was the eighth grade volleyball and basketball coach there for one year. Then I was at Nimitz High School in Irving and I was their head coach for one year, then at Lewisville High School for eight years. 
What was it like working with the Dallas Mavericks?
[It was] a lot of fun. I got to meet a lot of fun people. I met Mark Cuban and I got tickets to the games. I worked the Mavs camps in the summer, so I met Dirk Nowitzki and all the other players and took pictures. It was a great experience. 
What have you learned as a coach? 
Times were different back in the day. With me, when I was younger, I was all about basketball, there was nothing else. I get it; they have more extracurricular activities, their grades obviously come first. But just having to juggle the grades, their emotions, breaking up with boyfriends, their relationships, their family life at home. The biggest thing I learned is being able to play the multiple people in their lives – their mom, their friend, their counselor. So just juggling basketball with all of it. 
What challenges come up from coaching basketball?
The only thing that's really challenging is having to juggle my own teaching with coaching and having to spend time with my own family. But I'm used to it. You play basketball in college and you don't get a Christmas break [or] Thanksgiving break. So I'm used to it, but that's always been the hardest thing, trying to find time for yourself and trying to sit down and relax and just take care of you for a little. 
If you could be any animal, which one would you be? 
I would normally say a cat, because I used to be a cat person my whole life, but I would say a dog. I have two dogs [Wrigley, a schnoodle, and Bentley, a mini goldendoodle] myself and they're smart, they're loyal, people love them to death [and] treat them as if they were their own. You get to sleep all day, play all day and then you get love as soon as you get home. 
What songs would you include in the soundtrack of your life?
I'm a big romantic. I love love songs. I go to sleep with love songs on. So probably 80s love songs. That's when I was born, so it would bring back memories for me. 
What does basketball mean to you as a sport? 
It's the most important thing, and not just basketball, but sports in general. They are the most important thing that a person or a student can be apart of because it teaches them more than just the game of basketball – it's the game of life. It's holding yourself accountable, it's being on things on time, it's doing good for the community, it's not giving up when things go wrong, it's always staying tough even if you're losing. It teaches you everything – commitment, perseverance, determination, responsibility, accountability and to give your 100% in everything you do. 
Follow Shravya (@shravyamahesh) and @SidekickSports on Twitter.