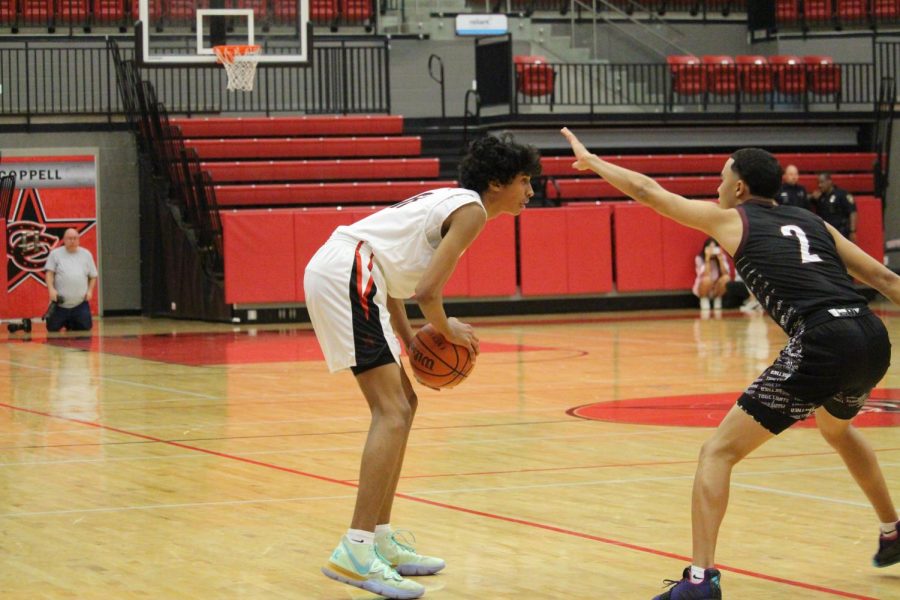 Neveah Jones
The Coppell boys basketball team looks for a second district win tomorrow as it takes on Irving (0-2 in District 6-6A and 6-6 overall) at the CHS Arena at 8 p.m. for its third District 6-6A matchup of the season.
The Cowboys (1-1 in District 6-6A and 17-4 overall) head into this week's game after a big win against Marcus on Tuesday, 72-43. This comes after a heartbreaking last-second loss to Lewisville, 62-61, for the first district game of the season. 
"After the loss to Lewisville, we came back and focused on the downhill play," Coppell senior guard Brandon Taylor said. "I believe in this team like the rest of us, and we have to play at that high level."
With 12 games left in the season, the Cowboys look to capitalize as they look for a playoff berth. Last game, the Cowboys were able to get back on track with big performances by Coppell senior guard Adam Moussa and sophomore guard Ryan Agarwal.
The Cowboys are not changing their preperation methods or mindset entering Friday's game.
"We go out and get work done, either when we are practicing and taking on an opponent," Taylor said. "We have to start off strong every game because we know every opponent comes to play."
Follow Arman @arman_merch and follow the action @SidekickSports.