Preseason play continues with 1-1 tie against Heritage
With the Cowboys boys soccer team seeing a large amount of underclassmen this season, the team is taking every opportunity it can get to put some more experience on its backs.
The Cowboys played Frisco Heritage in its second scrimmage this season on Tuesday at Buddy Echols Field and left with a 1-1 tie.
Class 5A Frisco Heritage made it to the regional semifinals last year. This year, it is coached by David Blackburn, a former Coppell assistant boys soccer coach since 2015, who left for the head coaching position at Heritage at the end of last season. Most of Coppell's players had been coached under Blackburn since their first day in the program as a freshman, making the match a bitter-sweet experience of sorts.
"I definitely have mixed emotions here," Blackburn said. "My time here was really special, I know almost every single one of those kids on the varsity team. It's good to be back, Coppell is a great team with a great history and I am glad we were able to compete and get a good result."
Coppell coach James Balcom coached with Blackburn for two seasons.
"It was good seeing it," Balcom said. "An assistant coach ventures out to get a head job. I am hopeful for him and I want him to do a good job. He's done a great job so far, getting his group ready. They are going to be a tough, tough team in their district and I am excited about his opportunity."https://coppellstudentmedia.com/
With the season still young, the two teams planned out the scrimmage as a good experience to prep up for the upcoming district season. Both Coppell and Heritage bid farewell to a large number of senior players last year, leaving this season with relatively young teams.
However, both teams demonstrated good chemistry in their plays. Heritage played a defense-focused 4-2-3-1 formation while Coppell stuck to its long-time favorite 4-3-3 formation, with underclassmen as freshman right winger Preston Taylor, sophomore defender Walker Stone and junior center-forward Sebastian Flores filling up position left vacant by last years graduating class.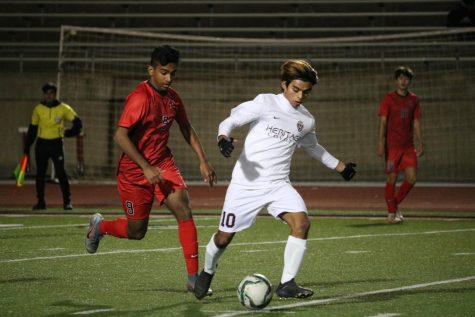 Early into the match, the Cowboys established themselves as the dominant force on the field, getting their only goal in the 15th minute thanks to a shot off a rebound by senior midfielder Caleb Razo. Though Heritage was awarded a penalty in the 22nd minute, it was unable to convert it into a goal and it continued to play defensively the rest of the half.
The Cowboys focused on getting balls up the field to the feet of senior left-winger Tom Vazhekatt and Taylor — a strategy heavily used last year– but failed to create any notable opportunities. In the second half, the Cowboys centered their attacks through the middle instead, aiming for through balls past the center back instead of outside defenders but were unable to score a second goal.
 Around the same time, Heritage made a noticeable improvement, shedding its defensive mindset and sending more players into the attacking half. Heritage's efforts paid off with a goal-scoring header by off a corner in the 64th minute of the match, making the score 1-1. Heritage continued to press offensive plays into the dying minutes but Coppell's defense held strong and prevented a tiebreaker.
Follow Akif (@AkifAbidi) and @SidekickSports on Twitter.