Younger spirit allows Cowboys to best former state runners-up
With three minutes left and everything to prove, Coppell freshman Nicolas Radicic lines up the free kick that will make or break the Cowboys' first scrimmage of the season. He breathes deeply then backs up to take his shot, exhaling as his ball connects with his cleat.
He scores.
A sea of red engulfs Radicic, one of two freshmen on the varsity soccer team, both of which are the only freshman varsity players since Ryan Barlow in 2011. The Cowboys kept the Gophers at bay for the remaining three minutes and claimed triumph, 4-3, over last year's Class 5A state runners-up.
"The new members on the team bring some new energy, some new life," Coppell coach James Balcom said. "We had two freshmen and two sophomores starting and they've come in like they've got a lot to prove. They've mixed in well and it's good that they first got game underneath them. Both of the freshmen [Coppell forward Preston Taylor and Radicic] had goals tonight and hopefully that breeds a little bit more confidence going forward."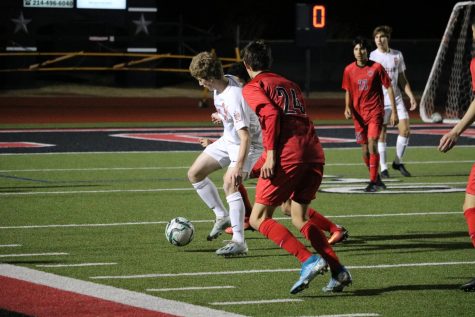 Although the Cowboys played in the same formation as they have in previous years, the influx of younger players filling into new roles forces the team to learn to coordinate.
"It's a scrimmage early on in the year and you know there are going to be some kinks, some things to figure out," Balcom said. "I knew going in defensively, we would have some work to do, we had a couple of guys missing so it was a makeshift backline a little bit. We got some stuff to clean up, the attack was good, lots of scoring opportunities, anytime you put four on a team that's huge."
Due to the National League Fall Showcase in Florida, Frisco Wakeland was missing the majority of its players.
"Frisco Wakeland is going to be one of the best teams in the state," Balcom said, "Although it was still good to get the result from tonight, they're missing that many guys and will be a top team in the state with them."
The Cowboys plan to spend time analyzing the mistakes made during the scrimmage and tightening up loose ends before the preseason ends.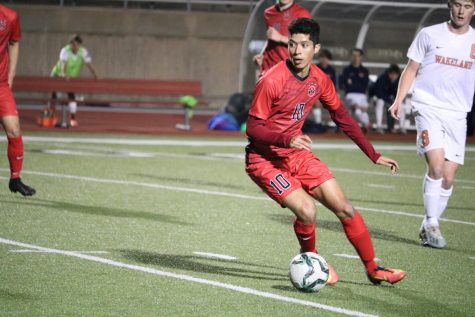 "It was a high scoring game," Coppell senior left back Mirko Grosoli said. "Usually, games don't score that much. Our defense was pretty tight except for a couple of mess-ups, which we've been working on fixing. We tried a couple of new things and we have a lot to improve on."
The fast pace of the game was relentless on the players, with neither side allowing the other to dominate.
"We started well as a team and our chemistry was great," Coppell senior goalkeeper Kyler Henderson said. "We missed a few opportunities we should've had, but other than that, the game went great. We're going to make a few changes and start passing to feet so we can get rid of the weakness in our game that let Frisco get some goals."
The team plays Frisco Heritage at 7:30 p.m. at Buddy Echols Field on Tuesday.
Follow @anjalikrishna_ and @SidekickSports on Twitter.