Cowgirls pick up sixth win in a row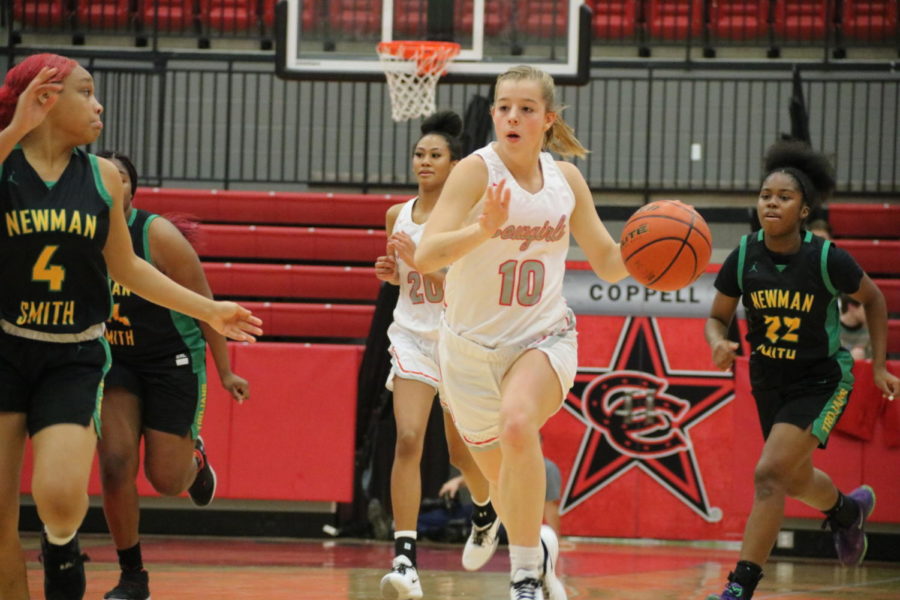 The Coppell girls basketball team saw the return of two integral players, senior guard Jordan Nelson and junior guard Emma Sherrer – both out due to injuries – at the CHS Arena last night against Newman Smith. Both players served strong roles in the 67-20 victory.
The Cowgirls (6-4) have won their past six games and take their gained knowledge to their upcoming three-day 32-team tournament in Austin, the Hays CISD Classic tomorrow through Saturday.
"It went well for us, we really used it as a game to work on the little things for district and our upcoming tournament in Austin," Nelson said. "We did what we needed to do and what we needed to work on."
While the game started slow, the first points not scored until Coppell junior guard Chloe Hassman shot with less than six minutes left in the first quarter, once the Cowgirls gained momentum, they extended their lead and never looked back. Despite the dominating win, there are still areas for improvement. 
"We could have strived to be more perfect in the game," Coppell senior guard Nicole Obialo said. "I would say we need to work on solidifying our defense and being more consistent as a team against any team, good or bad."
However, the beginning of the first quarter and scattered throughout the game, Coppell continuously fouled. 
"Today was not good," Coppell coach Ryan Murphy said. "Today was a lot of fouls. Sometimes, when games are a blow out, they start calling ticky tack fouls when we are up big, but we have a tendency of being in really good defensive positioning and then bailing out the other team with reach-ins. That's the biggest thing we need to get better at." 
Despite persistent foul trouble, the team was able to score well throughout the entire game, never trailing to the Lady Trojans. 
"It got a lot of people a lot of minutes," Murphy said. "Everyone should have a lot of confidence going in [to the Hays CISD Classic]. The more confident you are, the better you're going to play."
Nelson, who was out with a concussion, was playing in her first game since the injury.
"Coach gave me some good minutes, which was good easing back into everything," Nelson said. "I'm so happy to be back and I love playing with my team." 
Sherrer, also playing in her first game since her injury, was the second leading scorer for the team, trailing only to Hassman. 
Follow Sally (@sparampottil) and @SidekickSports on Twitter.
About the Contributors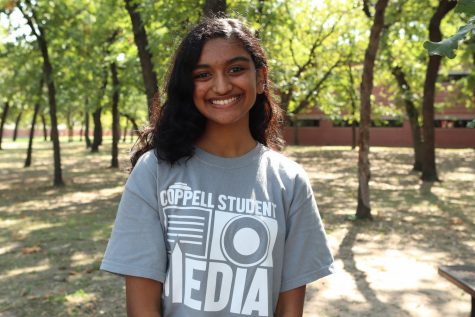 Sally Parampottil, Executive Editor-in-Chief
Sally is a senior and the Executive Editor-in-Chief on The Sidekick. While she's done just about everything possible on staff, she loves writing for sports...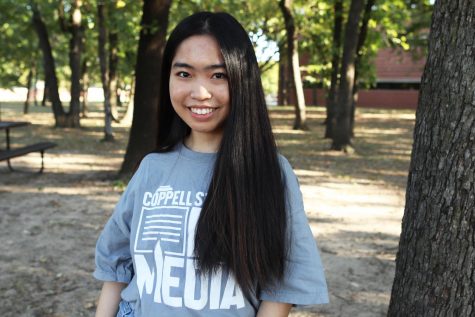 Tracy Tran, Photo Assignment Editor
Tracy is a junior and photo assignment editor for The Sidekick. She loves to spend quality time with friends, try new foods and volunteer. You can contact...