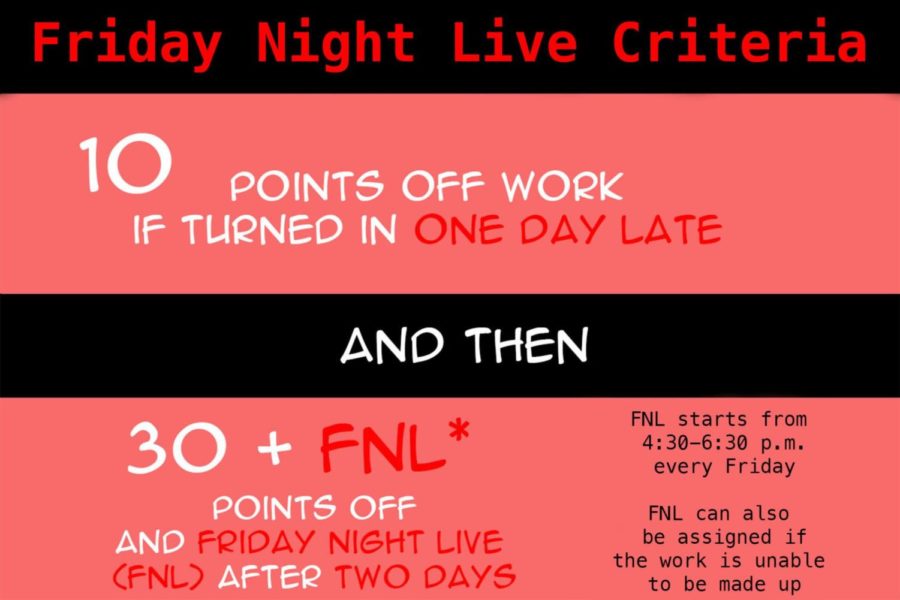 Ryan Kim
With the start of the 2019-20 school year, Coppell High School has introduced many new policies. With about 30 to 40 kids attending Friday Night Live(FNL) each week, the program looks to bring the number down.
FNL is a way for students to catch up on work they did not complete either for homework or in class. Teachers have the ability to assign students to FNL, which takes place every Friday, from 4:30-6:30 p.m.
The policy first started when Coppell High School Principal Laura Springer was the principal at Coppell Middle School East, where the program is still continuing. Many teachers have used it to encourage students to get work turned in on time.
Some teachers who previously worked alongside Springer at CMSE have become accustomed to FNL.
The new policy changes when students would be eligible for FNL. The first day an assignment is late, 10 points are deducted from the overall grade. The second day is a 30 point deduction and a ticket to FNL. Teachers are also allowed to assign FNL for students who are missing assessment grades.
More schools in the district are looking to implement FNL for a way for assignments to be turned in on time, along with a place to catch up on late homework and missed assessments.
"When the policy was brought here to CHS, it was not created to punish, but rather help them have an opportunity to make up assignments and pass their classes," Springer said. "The teachers have seen an increase in overall productivity; paired with the no-phone policy, students are succeeding in the classroom."
As FNL takes place on Fridays, athletes from every sport must make sure they have all the work turned in to avoid getting FNL. Coaches are monitoring their athletes' attendance and grades to make sure they are not either ineligible or are assigned FNL.
"My friends and I agree we take all our classes more seriously, even the ones that do not count towards GPA or rank," CHS junior Aryan Pal said. "The policy keeps me accountable for work I need to get done and makes me motivated to have it turned in on time."
With the addition of FNL and the no cell-phone policy this year, CHS is looking for more improvements to improve classroom productivity.
"Throughout the year, we will try to get more feedback from both our students and teachers," Springer said. "For now, the results have been positive, and we will try to bring the number of students in FNL down."
Follow Arman (@arman_merch) and @CHSCampusNews on Twitter.