Southlake Carroll sweeps cross country titles
Defending girls champs place fourth, while CHS boys place 7th
Perfect weather accompanied a disappointing finish at the Class 6A State Meet for both Coppell cross country teams at Old Settlers Park in Round Rock.
The girls' reign as state champions was overthrown by Southlake Carroll, who won the gold medal, leaving Coppell in fourth place. Kingwood took second place and Prosper took third. Coppell juniors Morgan Colon and Chloe Hassman finished in 14th and 15th place with times of 18:21.67 and 18:21.68 respectively.
As the girls expected, their title placed a target on their backs, making them most vulnerable to the attacks of other school disrupting their running methods.
"The other teams were on us,"Coppell sophomore Beca Centeno said. "They messed up our packs and it affected the outcome. It's different from last year."
Moving forward, the girls will prepare for next year's State Meet and keep up their energy through the rest of the season.
"We're just going to keep doing what we're doing and maintain our fitness. We have another meet and if we get first or second, we move on to nationals," Centeno said." We're going to be training hard and staying motivated."
The boys placed seventh overall, with Southlake Carroll placing first. This year's team placed the highest the boys ever have at state, and nearly what the boys hoped they would accomplish.
"We all knew that we could have done a lot better," Coppell junior Colin Proctor said. "We could've pushed a little more and done better. If we had a few more points we could have finished in fourth or fifth. Not really much went wrong, if we had just passed a couple more people in the last bit at the end we could've gotten a few more points. We know we can make it back next year because there are a lot of people that will be gone, making the teams we race against easier to beat."
Although the team was hoping for a medal, the boys were overall satisfied with their performance. Coppell senior Evan Caswell took the fourth place spot with a 14:48.34 5K, one of his personal bests.
"A lot of us reached our full potential at this meet," Coppell junior Rith Bhattacharya said. "We did our job and what we were trying to do 
Both teams expect to return to state next year to defeat Southlake Carroll.
Follow Anjali (@anjalikrishna_) and @SidekickSports on Twitter.
About the Writer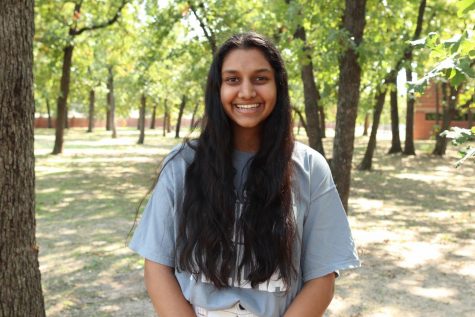 Anjali Krishna, Sports Editor
Anjali Krishna is a junior and this year's sports editor.  You can find her listening to the same three records over and over or trying to find the city's...