Racing to the top
Caswell racing past competition on path to national prominence
Fifteen minutes is not much time for many tasks for the average person, but around that amount of time is all it takes for Coppell junior runner Evan Caswell to complete a 3-mile race. Caswell has broken school records and reset his own records for two cross country events. 
Caswell has been running for five years, after joining cross country in middle school because he enjoyed competition. He currently holds the 3-mile and 5K school record at Coppell High School and is second all-time in the school for the 2-mile record.
Coppell cross country coach Nick Benton describes Caswell as an unconventional leader for the team. 
"He is not a vocal leader but he does lead through his actions," Benton said. "His sophomore year, he had to grow up a lot, he had a lot of bumps in the road and this year, he has stepped up and [is] being a leader."
"
[Caswell] had a lot of bumps in the road and this year, he has stepped up and [is] being a leader."
— Nick Benton
One talent that sets Caswell apart from the average athlete is his ability to stay strong in a race setting. Coppell junior runner Chloe Hassman claims the way he races is rare to find in the normal runner.
"His tempo runs are really good," Hassman said. "He races really well and he always tries really hard. He puts a ton of effort into his tempo runs in practice and it shows in his races."
Last year, Caswell advanced to the state meet as an individual and placed 27th. Hassman notes this as the time she noticed him flourish as an athlete.
"He was always fast, but it wasn't until last year where he went to the state meet by himself where he really realized his potential," Hassman said. "This year, he started off strong and he's really building off of his confidence from last year."
Recently, Caswell finished first at the District 6-6A Cross Country Meet on Oct. 18 at North Lake Park in Denton. He finished the 5K course in 15:12, beating reigning Flower Mound senior state champion Jarrett Kirk.
"[Caswell's] ability to take chances and put himself out there sets him apart from other athletes," Benton said. "There have been times where other runners have been a position to do what he has done, but they haven't taken chances as he has."
At the Class 6A Region I Meet on Oct. 28 in Lubbock, Caswell finished second in 14:41.6, about three seconds behind Kirk's 14:38.2. One of his main goals for the Class 6A State Meet in Round Rock at Old Settlers Park on Saturday is to take home the individual championship.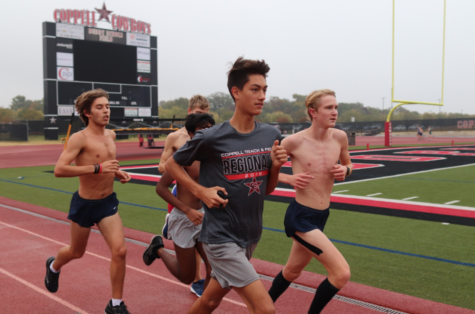 "[Caswell] has to put himself into a certain position [at the state meet]," Benton said. "He has said he wants to be the top finisher, he wants to be a state champion. He's in a position to go out there and do it, he has to take some chances during the race and put himself into a certain position early on in the race."
Additionally, Caswell has his sights set on advancing to the Nike Cross National meet in Portland, Ore. on Dec. 7. To do this, he will have to place top 10 at the Nike South Regional meet in The Woodlands on Nov. 23. Last year at the Nike South Regional meet, Caswell placed second in the open 5K race with a time of 16:23.91, which placed him 19th overall. 
"I want to place top three," Caswell said. "It would mean a lot if I could advance to the national level."
Caswell hopes to lead the boys team to a state championship after helping them qualify for the state meet for the first time in school history since 2007. He only contributed two points to the team's overall score at the regional meet. 
"This is the first time the boy's team, and Coppell in general, has had a frontrunner," Hassman said. "That's a really big deal because that makes up a lot of points and it is also really motivational to the rest of us because we say 'OK, it's not that far out.' Freshman year he was fast but he was more on the level of the rest of us, so we can see that achieving those times and standings are doable."
Although he is unsure of whether he wishes to continue running after high school, Caswell finds motivation elsewhere.
"I find motivation in my teammates who have been helping me out," Caswell said. "Coach Benton also definitely influences me to work hard and of course, my family is a big motivator."
Follow Sydney (@syd218) and @SidekickSports on Twitter.
About the Contributors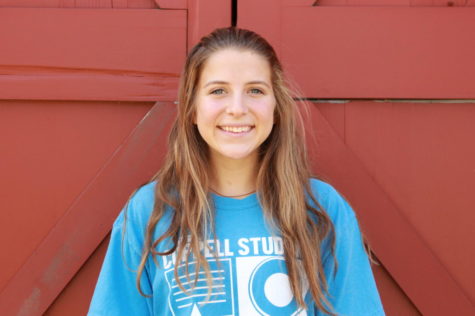 Sydney Rowe, Staff Writer/Photographer
Sydney is a senior and is a second-year writer and photographer on staff. She enjoys being active and going to new places in her free time. In school,...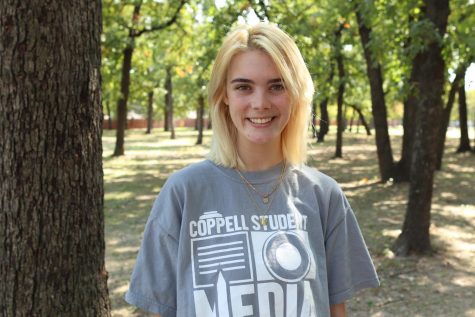 Lilly Gorman, Visual Media Editor
Lilly Gorman is a senior and visual media editor for The Sidekick. In her free time she enjoys shooting 35mm film. She has been playing bass guitar for...