Hassman follows family's footsteps in cross country
Stadium lights illuminate the otherwise dark Buddy Echols Field Track as CHS9 student Waverly Hassman warms up with the varsity cross country girls team. At 7 a.m., as many high school students are just waking up, Hassman's discipline and commitment to cross country motivate her to challenge her limits.
The Coppell girls varsity team is defending its state championship this season. Waverly herself is fifth on the team, with a mile time of 5:26. As a freshman, maintaining her position on the team requires a tremendous amount of commitment and discipline.
"[Waverly] is very disciplined. She's devoted to the sport and she really wants to do well," Coppell cross country coach Nick Benton said. "Everyone struggles at some point and she's doing a good job of stepping up as a freshman."
In addition to discipline and confidence, the support from Waverly's family helps her succeed in cross country. As the youngest in a family of runners, Waverly has looked up to her siblings her whole life. 
The Hassman siblings, junior Chloe and graduates Rowan (2019) and Evan (2017), all attended Coppell High School and are known for their running talent. Waverly's admiration for her siblings, especially Chloe, carries over to cross country, where she looks to them for confidence boosts and advice.
"[Chloe] helps me get my confidence up before I run and helps me if I'm feeling down after a workout that didn't go very well," Waverly said. "She'll just always be there."
Being part of a family that shares a common interest fostered a competitive spirit in Waverly, one that drives her to do her best in cross country and break records that her siblings have set.
"It's great to have that competition in your family because it keeps you wanting more," Waverly said. "You won't stop because you always want to be better than [your siblings]."
Even with the constant pressure to outdo each other, the Hassman siblings find themselves coming back to each other for comfort and understanding from someone who has experienced similar trials and tribulations.
"We all face the same challenges in running and races, so I always have someone to go to to talk about it, someone to look up to in that sport," Chloe said.
The Hassmans developed their connection over running together as a family, which allowed for it to endure and grow. Carole Hassman, Waverly's mother, started running track at Pima High School when it was not a big part of her life. After high school, running faded to the background and it was only when her eldest son joined a running club in kindergarten that she brought back her connection to the sport.
As the family grew more serious about cross country, running quickly became a large part of the Hassmans' lives. Now, Mrs. Hassman can be found running every morning with the girls, simultaneously building her connection with her family and cross country.
"We're a family of runners, which is something everyone knows about us," Chloe said.
In addition to being well known in the Coppell cross country circle, the Hassmans are extremely dedicated to the sport. This is especially important because cross country demands an unwavering focus and perseverance in addition to athletic ability.
"You're not always going to hit those goals, and [you can't] let the disappointment give you a reason to quit," Mrs. Hassman said. "That translates really well into life because things in life don't always go your way. You have to pick yourself up and keep going."
Follow Trisha (@trishatluri) and @SidekickSports on Twitter.
About the Contributor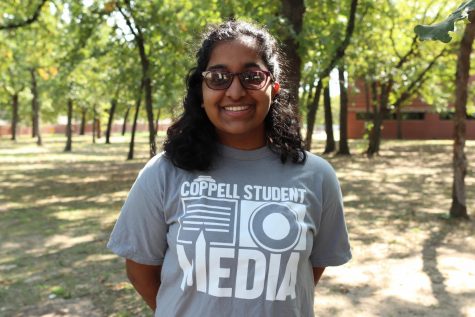 Trisha Atluri, Advertising/Circulation Manager
Trisha is a junior at Coppell High School and the advertising/circulation manager for The Sidekick. She enjoys playing ukulele and discovering new music...