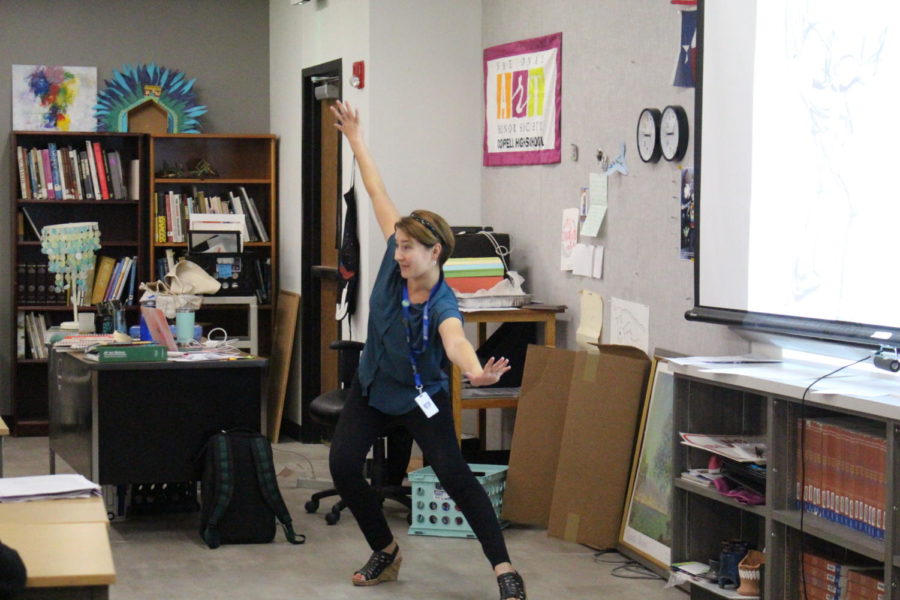 Neha Desaraju
Michelle Hauske is The Sidekick's October teacher of the issue, selected by the newspaper staff. Hauske is in her third year of teaching and teaches AP Art History, AP Drawing, IB Visual Art and Drawing II. 
What is your background in art?
My degree is in painting and art history. Prior to being in education, I actually worked as an artist. I worked at the Institute of Arts in Detroit and was in charge of programming and community outreach. I was doing a lot with bringing art to the community and then bringing them into the museum.
How would you describe your teaching style?
I like student exploration and inquiry-based [projects]. I like having authentic conversations. I would much rather my art history students use their eyes and talk about the works than give them a bunch of reading assignments and have them come back and regurgitate information.
Why did you get into teaching art?
I'm an artist myself. I've been drawing since I could remember. When I was in the museum, I had great conversations with people, and I really loved it, but I might see them once. I felt like education was a calling for me. How can I use my knowledge of being an artist and my experience of working at a museum for five years and interacting with people? How can I grow that conversation? So I felt like education was a great way for me to get people interested in some of these things, but also continue to develop those ideas. 
What is your favorite part of teaching art?
I like when students have an "aha!" moment, when they come to me and think they can't do something or there's a part of the material that really frustrates them. To really see them engaged in it and opening up, I really enjoy that part about teaching art. With art history, because it's very academic, I like the discussions. I like that they bring in pop culture references or contemporary events. My favorite thing last year was when I took them to the Dallas Museum of Art and turned them loose. They were running up to me, excited to see a piece from Africa they studied or a piece from Greece, and they were super pumped. That was really rewarding for me.
Follow @nehades_ on Twitter.