60 years: More than half a century of growth and development of a cutting-edge district
In 1928, three schools, all within 10 miles of each other, combined into one Coppell Grade School. The seven-room school building housed grades one through eight and remained as such for nearly four decades.
In 1959, 31 years after the construction of Coppell Grade School and 89 years after the construction of the first Coppell School, Coppell Independent School District was formed.
Even now, 60 years later and about a month after the opening of CISD's 11th elementary school, Coppell and its school district still uphold the small-town feeling upon which they were founded.
"There was a Coppell school as early as the 1870s," Coppell Historical Society President Pete Wilson said. "We've built up from then, but we will never lose that small-town foundation."
Wilson is a life-long resident of Coppell and was the first valedictorian of Coppell High School. He came back to teach at the school from 1972 to 2008.
Part of the small-town feel of Coppell comes from its geography. Landlocked from expansion by Irving, Carrollton, Lewisville and Grapevine, it has no physical room to grow. However, that has not stopped it.
In 1980, there were 743 students enrolled at Coppell ISD. This year, there are 13,110. Since then, Coppell's area has not grown in size. The population increase has come primarily from the district's reputation. However, the concept of being a good school district is not a new benchmark for CISD.
"It's interesting, Coppell schools have always been considered by locals to be heads above what was around them," Wilson said. "There wasn't anything wrong with the schools around them, but for some reason, people always saw Coppell as superior."
While Coppell ISD's success as a school district may have been a mystery in the 1920s, the reasons are apparent nowadays. Coppell often takes part in cutting-edge learning and teaching techniques and programs. One prime example of the latter is the International Baccalaureate (IB) program. While many schools across the country offer it at the high school level, CISD is one of the few to have IB in a primary school: Pinkerton Elementary.
Pinkerton is the first and only primary school in the district to implement inquiry-based learning into its curriculum. Recently, it has adopted the IB Primary Years Program. This allows for the open-minded academic profile of the previous inquiry-based learning to be expanded to incorporate different aspects and a world-view of subjects of study.
"IB allows the children here at Pinkerton to break out of their little bubble and look at the world as a whole," said second-grade teacher Ginger Denton, who has taught at Pinkerton for 38 years. "That is what is going to make positive change in the world. Not just looking at ourselves or Coppell, but looking at the whole world."
Denton has been at Pinkerton since it was the only elementary school in CISD, one year prior to the construction of Richard J. Lee Elementary, currently New Tech High @ Coppell. Her experience is paralleled by few in the district, as she has seen CISD grow from 791 students in 1981 to more than 13,000.
However, even in a district as big as CISD, people such as Denton can find niche communities. For Denton, that place is Pinkerton. Seeing as it was built before any of the other elementary schools, Pinkerton has a unique, smaller floor plan. This allows the close-knit environment within the school to uphold, even amongst district growth.
"I've had the chance to move to other schools," Denton said. "But I've always chosen to stay here because it does have a very close school community. Even though when we go to district meetings, it feels big, it still feels like the same school I began working at 38 years ago."
However, for many people, the district does not feel the same as it did in the past. Namely, it is not the same as even last year. With the addition of Canyon Ranch Elementary in Valley Ranch, Coppell continues to expand and prosper as a school district.
The majority of previous additions to Coppell ISD were elementary schools laid out in a footprint-shaped layout, in which there are different hallways for each grade. However, Canyon Ranch is designed and constructed in a way more fit for collaboration between classes and grades.
"Our campus is organized into six houses," Canyon Ranch Principal Ashley Minton said. "We have a focus on vertical alignment and multi-age collaboration. The physical layout of our building helps with that because there are six classrooms all connected with an open space in the middle."
The house structure of Canyon Ranch is yet another example of CISD's efforts to be on the cutting edge of education and technology. However, regardless of the layout of the building or the style of teaching, all campuses in the district are built around the CISD core values. These values, as listed on the Coppell ISD website, are collective engagement, great teaching, authentic relationships and success.
While these values were approved to be official only in June 2018, the principle of them dates back longer than the district itself.
"The formation of the district was just a formality," Wilson said. "It was the same Coppell before 1959."
After 60 years of change, growth, adaptation and development in CISD, and going into the next 60, the district always has and will always keep that down-home feeling with which it was created.
About the Contributor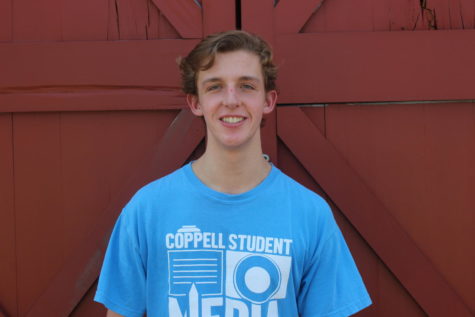 Nicholas Pranske, Executive Copy and Design Editor
Nicholas is a senior and in his third year on The Sidekick staff. He enjoys reading the encyclopedia cover to cover and polishing shoes. You can often...