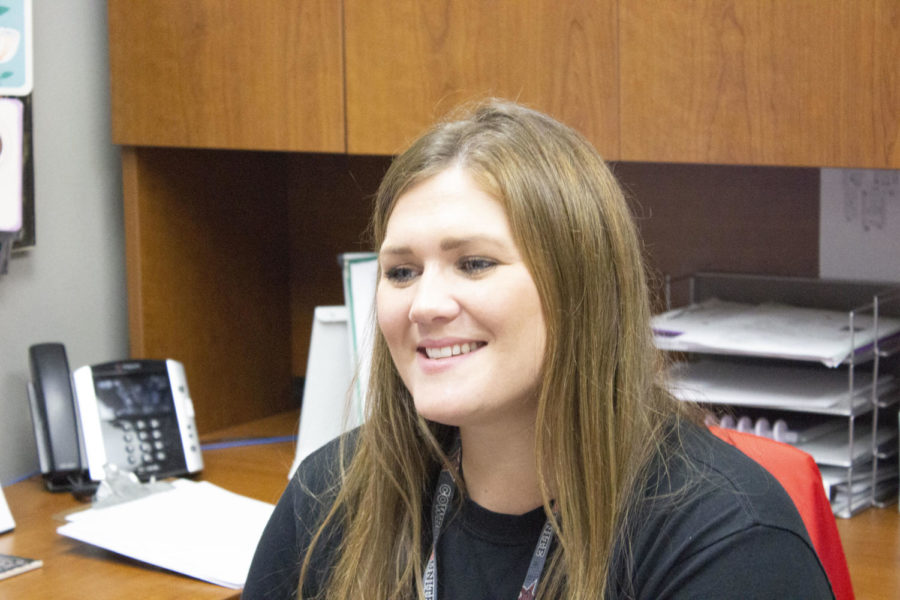 Blanche Harris
This year, Coppell ISD has seen a number of changes to its staff. Chris Gollner, Chase Vaughn and Aylor Rix are  the newest additions to Coppell High School administrative team.
Gollner taught previously as a science teacher at Coppell Middle School East for 12 years and has been an assistant principal at Cottonwood Creek Elementary since 2016. His background in teaching helped him learn to build strong relationships with students out of the classroom.
"I wasn't the best student myself, so I thought maybe I could use some of the mistakes I learned [from], some things I've done, whatever it might be to help the kids who are struggling and might need that extra support," Gollner said. "I thought, hey, I could work with teachers and share some things I've done that have been successful or not successful and pass that on to those educators."
However, Gollner said there are some notable differences in teaching and being in an administrative role.
"Teaching at East was fun," Gollner said. "To be honest, I still miss it. I still miss the classroom, I'm going to miss the jokes and the fun you get to have and the content and debates you get to get into with it, but I had a small group of kids. So I'm ready to get into that administrative role and work with even more kids."
According to CHS associate principal Sean Bagley, CHS Principal Laura Springer worked with Gollner at East and wanted Gollner to join her new team.
"[Gollner] is a character," Bagley said. "He plays around in a good way, and he's that brother who keeps poking at you now and then. He's just a really good guy and he's fun to be around. He's upbeat."
Gollner admits he is excited to share his personality with high school students.
"Now, I'm super pumped my sarcasm might be understood," Gollner said. "I can maybe crack some jokes that kids will maybe not cry about. Dealing with some more adult comedy will be fun."
Vaughn, who started his career teaching at Coppell Middle School North 11 years ago as a coach, hopes to offer a unique perspective from another school district to the administrative team. Vaughn returned from Plano ISD as an AP to take up an administrative role at CHS last year.
"Plano is where I learned to be an assistant principal from individual situations [with students] to just the run-of-the-mill guidelines and policies like cell phones or tardies or whatever," Vaughn said.
Vaughn builds a motto of working with teachers first to bring a better environment to students.
"I got into this business because I love kids and teachers and as an administrator, I wanted to build a great relationship with teachers so they build a great relationship with kids," Vaughn said. "If teachers are happy, the kids are going to be happy. At the very least, I want teachers to like being in the classroom; if [teachers] have a good relationship with an administrator then they are going to like being in the classroom, so the kids are going to like being in the classroom."
Gollner and Vaughn bring something new to the table by adding fun to both the administrative team and CHS as a whole.
"As administrators, we have a lot of stress, so it helps to have some folks on the team to keep us laughing," assistant principal Cindi Osborne said. "Gollner is definitely one of the pranksters and the jokesters in the group. [Vaughn and Gollner] get together and there's trouble.
Rix, who was an Honors Algebra II and statistics teacher before becoming an AP this year, says becoming an administrator has helped her grow outside of a classroom.
"People always ask me, 'how does [being an AP and being a teacher] compare?" Rix said. "I just don't think it really compares, it's just so different. In the classroom, you teach your content. Being an AP is, you have a schedule or a calendar, and things might come up that I just can't get to. It's constantly something new."
With fresh experience as a teacher, Rix has a vital attitude that brings the administrative team together.
"We all come from what our experiences are," Osborne said. "With Ms. Rix having freshly come from the classroom, she has the perspective of the teacher. She's most closely come out of the classroom, making sure that we include the teachers [in decisions]."
Rix says that being an AP allows her to expand her reach.
"One of the best things is that I get to interact with so many more kids," Rix said. "There's this stigma that we only deal with kids who have problems, but it's about what you put into it. I think it's important to go out of your way to meet kids who are, you know, just in the hall, and I've gotten to meet many of them that I don't normally have interactions with."
Follow @nehades_ on Twitter.