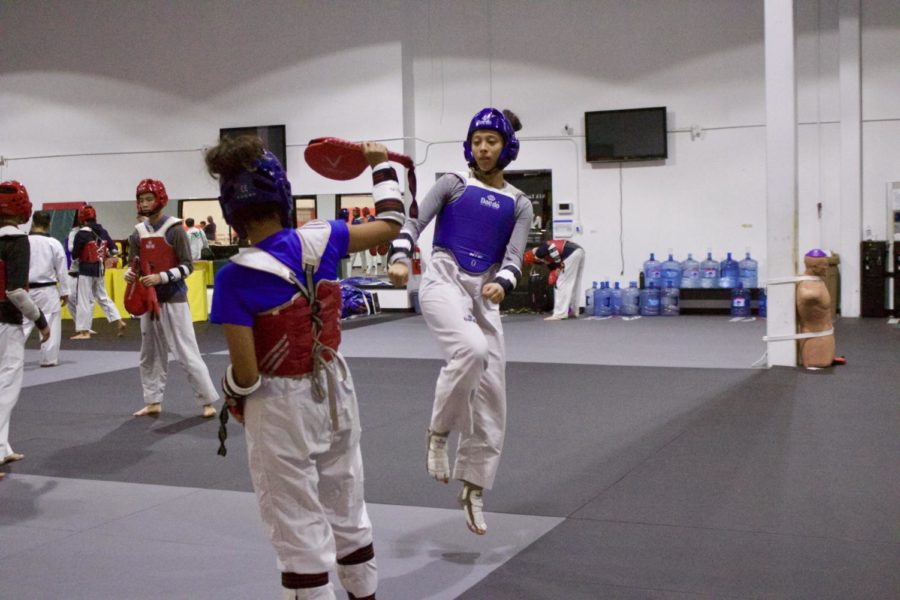 Charlotte Vanyo
For most athletes, making it to a national level of any sport can be difficult, but for New Tech High @ Coppell sophomore Arwyn Sullivan, it is a reality. Sullivan qualified for the Amateur Athletic Unit (AAU) National Taekwondo team in August and is an All-American Cadet fighter.
"Having spent my whole summer training in taekwondo, I felt accomplished when I made it onto the national team," Sullivan said. "I had moments where I wanted to quit and not even enter the trials, but everyone around me pushed me even harder."
However, her accomplishments thus far are just a reward for her dedication to the sport.
"Making it this far into my taekwondo career is just the start for what I have been working for," Sullivan said. "I have a ton of support behind me, and I can use this to keep moving forward and dig deeper."
Since she was 5, Sullivan has enjoyed the intensity and hard work that comes from every practice to every fight.
"I have been practicing for the past 10 years," Sullivan said. "When I was 11, I won my first national competition. After my first win, my love started to grow and I had the drive to keep practicing and improving."
Her work ethic also does not go unnoticed by NTA Taekwondo master Sang Cha, who has helped her prepare for the national trials.
"Her talent still blows me and the other instructors away during every practice," Cha said. "She is very gifted, but more importantly her work ethic helps motivate the younger students."
Furthermore, Sullivan's legacy has left a large impact on the rest of her teammates with her dedication and continued support.
"You can learn something from her in every practice," teammate Lilly Schlamp said. "She is always ready to help motivate us and set the tone for the rest of practice, it helps gel the team together."
Her ability in taekwondo is not the only reason Sullivan has been able to join the national team, as she credits her teammates and her coaches.
"Every practice is just exciting because I have been lucky to have the same teammates and coaches for so long," Sullivan said. "We all understand each other so well, so they are able to motivate me when I feel like quitting."
With her teammates and coaches being her support, nobody means more to her than her father.
"Watching her grow from when her sister and her started to where she is now, has been amazing," Joe Sullivan, Arywn's father said. "Being the only one to travel with her to her national competition and her making it onto the team, was one of the greatest feelings for any father."
With Sullivan making onto a national team, she is excited for what is yet to come when it comes to competitions.
"Getting recognized by some of the coaches that have the same love that I do," Sullivan said. "Having an opportunity to test things I've been learning with some of the best can help me gain some more knowledge."
Like any sport, Sullivan credits it to helping her build character and improving her life skills.
"The biggest thing I have taken away from taekwondo would be my improved perseverance," Sullivan said. "When I was younger, I was unable to communicate and better myself, but now I can put myself in that leadership role."
With her experience only getting larger, Sullivan plans to take her talent to college.
"When I start college, I want to train to go to a collegiate tournament," Sullivan said. "It seems like a great experience because I get to work with different athletes and I get to compete in the sport I love the most."
With every obstacle that comes her way, the only thing that has not changed is Sullivan love for taekwondo.
"The rush you get from fighting and coming up with the win is a feeling I can not explain," Sullivan said. "Making relationships along the way just makes the journey even sweeter."
Follow Arman (@arman_merch) and @SidekickSports on Twitter.