District leadership convenes with governor at small business forum
ADDISON – The third floor of the Westin Galleria Hotel was filled with suits, networking and anticipation on Friday afternoon as time neared Texas Governor Greg Abbott's keynote speech. 
The Dallas/Fort Worth U.S. India Chamber of Commerce hosted its third annual small business forum on Friday and invited representatives from Coppell ISD.
In addition to the main event, CISD Superintendent Brad Hunt and school board trustee Manish Sethi were invited to an exclusive round table discussion with Abbott prior to his speech.
"There were about 30 of us invited to the round table and we ranged from school leaders, business partners and some folks from the medical industry," Hunt said. "It was a representation of the Dallas area and allowed the governor to have a little bit of face-time with us so we could talk about some issues that are important to us."
CISD was invited because of the large Indian/Asian population within the community. Hunt stresses the importance of being responsive to the needs of the community.
"Engagement is a real important core value we have in the district," Hunt said. "We want to make sure we are engaging, not only with our families, but with our business partners too."
At the round table, Hunt and Sethi planned talking points to bring up with the governor. They wanted to speak on issues such as mental health and safety.
"We are seeing that, with social-emotional learning in public education, there is a great need for students to get help with mental health issues," CISD Executive Director of Communications and Community Engagement Angela Brown said. "Safety is a priority, we have to keep our staff and students safe, so that mission is critical for us."
The representatives also planned on speaking about redefining success, which is the question of whether there are ways other than assessments and tests to measure understanding of topics.
"Our accountability system in Texas is a lot of times based in a large portion on a test taken one time, one day," Brown said. "We would also like the governor to consider some other assessment alternatives, to show public education is being successful."
Due to a tight schedule, Hunt and Sethi only had the opportunity to speak to Abbott after the round table about House Bill 3 (HB3). HB3 provides more money for classrooms, increases compensation for teachers and cuts local property taxes for Texas taxpayers.
"After the round table, I was able to thank [Abbott] for HB3," Sethi said. "They have given us a lot more money. There is still a lot more to do, but it is a start."
The event included small business owners from around the area. Some of these attendees are residents and parents of Coppell, which provided an opportunity to network for the district as well. 
"We were able to show a lot of local business people that CISD is strong and that we really value education," Sethi said. "It promotes our district at a community and state level."
Moving forward, Hunt hopes to expand relationships that were made at the luncheon and continue to have a strong presence as a school district.
"Next steps for us are continuing with these partnerships and making sure we can remain strong," Hunt said. "I'm excited to bring some of this back to CISD and just hope we can make sure that the relationships that were formed today will grow and flourish."
Follow Sydney on Twitter @syd218
Hang on for a minute...we're trying to find some more stories you might like.
About the Contributor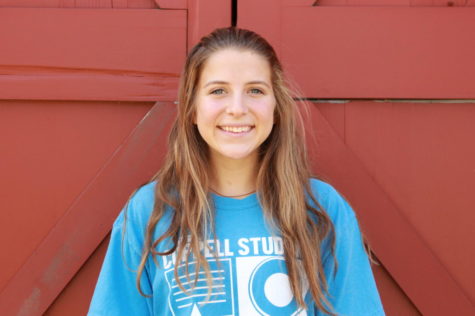 Sydney Rowe, Staff Writer/Photographer
Sydney is a senior and is a second-year writer and photographer on staff. She enjoys being active and going to new places in her free time. In school,...