Late score ends upset bid against national power
ALLEN – By halftime, the home crowd in Eagle Stadium had grown quieter as the scoreboard showed a tied game. The Coppell football team, Allen's Homecoming opponent, were posing a larger threat than they had thought. 
A fourth-quarter 17-yard Eagles touchdown by Allen senior runningback Celdon Manning with 2:15 left in the game served as the last score.
Though in the end, the Cowboys lost, 28-21, to Allen on Friday, they still put up a good fight throughout. 
"I am just really proud of our kids' efforts," Coppell coach Mike DeWitt said. "I can't say enough about how they continued to fight. There were multiple times in the game where they could have just given up. They were not intimidated coming into this place, and I am really proud of them."
While the score sat at 14-14 going into the second half of the game, Allen quickly scored a touchdown at the beginning of the third quarter, a three-yard run from Manning that, with the extra point from kicker Caden Gilmore, brought the Eagles up, 21-14. 
Coppell responded with just over half of the fourth quarter left after Coppell senior outside linebacker Max LaMendola recovered a fumble for a 60 yard touchdown, though the Eagles' touchdown five minutes later and the Cowboys' failure to convert sealed the game.
"It was crazy," LaMendola said. "It was so loud. You couldn't hear anything on the field, there was just this giant pressure to get things done. The team played great. It was hectic. No time to think, you couldn't hear anything."
Still, Coppell managed to play well on both sides of the ball. As an extra incentive to play well, former Coppell quarterback and current Allen senior quarterback Drew Cerniglia played in the game.
"It was fun," Cerniglia said. "I was looking forward to it. It was really exciting playing against some kids I know, so it was a blast."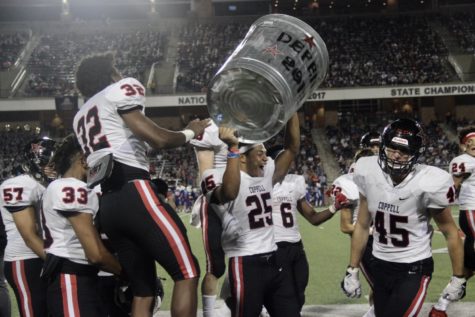 Overall, while the Cowboys ended up falling short of victory, the level of competition was high. Compared to Allen, which has not lost a regular-season game since the 2012 loss to Coppell at home, Coppell, now 1-2, does not have a record to match.  
The Cowboys put the first points on the board with a 32-yard field goal by Coppell junior kicker Tyler Reid. However, after an Eagles touchdown and the Cowboys unable to score, the first quarter ended in the same manner as the entire game: with Allen ahead and Coppell trailing. 
Though the Cowboys did not regain their lead after the beginning of the first quarter, they continuously fought to keep up with their opponents. The first half concluded with an eight-yard touchdown and two-point conversion by Coppell senior running back Cam Williams, which brought the 14-14 tied score. 
"The most important moment of this game, we got back in it," Williams said. "When everybody else thought we couldn't, we just fought." 
The Cowboys enter their bye week, then travel to Joy and Ralph Ellis Stadium to face Irving MacArthur on Sept, 27 at 7 p.m. 
Follow Sally (@sparampottil) and @SidekickSports on Twitter.