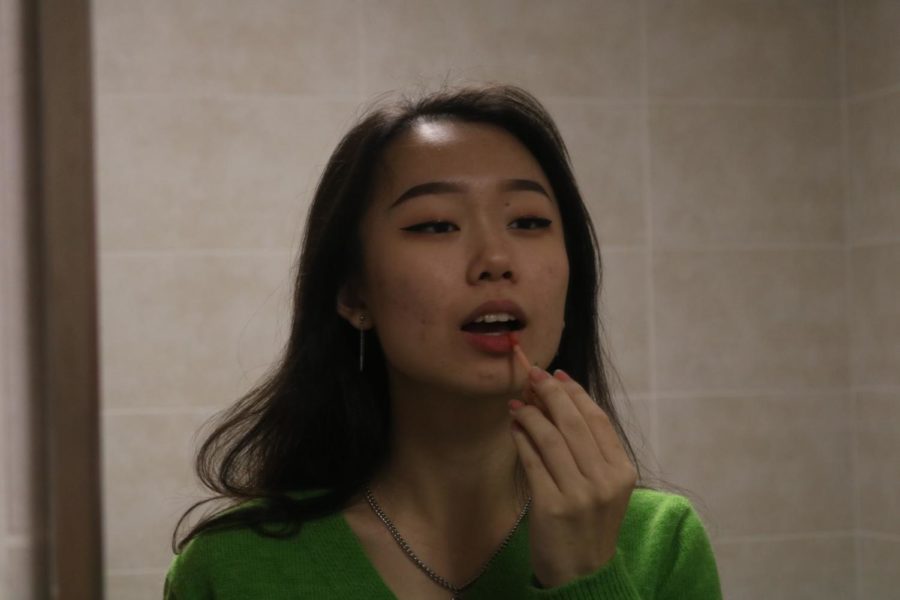 Camila Flores
A dab of blush, a swipe of lipstick, a touch of highlighter. Just 10 minutes, and Coppell High School junior Jamie P. is out the door, makeup done and confidence at a high. 
To Jamie, makeup is more than a side hobby or part of a daily routine. It is a passion and an important form of self-expression, so much that Jamie runs a makeup Instagram account, @sugarjammi, with more than 18,000 followers. 
"For me, [makeup] is a way to represent myself," Jamie said. "Without makeup, I would feel empty. Makeup really helps with confidence. It is something that's unique about me."
Jamie's experience in makeup began in the sixth grade at Coppell Middle School North, when her mother first bought her makeup products. As time passed, her collection grew, allowing her to experiment with styles and brands to see what fit her best and improve her skills along the way. 
"Once I started getting my own [makeup], I had [resources] to experiment," Jamie said. "With practice, I've definitely gotten [better at] harder parts of makeup, like eyeliner and doing my eyebrows. It's taken two years for that."
Before long, Jamie became her friends' designated makeup artist, as they ask her to do their makeup for major events such as prom and homecoming. 
In sophomore year, a curiosity to see her old photos spurred Jamie  to log back into an old Instagram account from seventh grade. Suddenly inspired to reopen the account, she began to post photos of her makeup under the username @sugarjammi.
While the account's growth was slow at first, it gained traction as she posted videos of herself applying makeup in short tutorial-style videos to demonstrate her own methods. 
"I feel like the way I do my makeup is unique, compared to other [ways] I've seen a lot of other people do it," Jamie said. "A lot of my friends ask me, 'How do you do this makeup? Can you help me?' So making videos helps them and a lot of other people that are trying to do their own makeup."
Suddenly, the account rose in popularity, as more found Jamie's videos and photos in the "Explore" tab. Over the summer, the account drew in a thousand followers per week, contributing to the 18,300 followers the account currently has. 
"It's surprising to see, because there's a lot of other Instagram beauty accounts. She's one of the influencers now," CHS junior Yiwei Shen said.
Yet the fame has not gone to Jamie's head, as she refuses to be swayed by her increasing influence.
"Other people say, 'Wow, you're Instagram famous! How do you feel?'," Jamie said. "But honestly, for me, I still felt like it was the same old Instagram, nothing really changed. It's not really anything special."
Jamie also occasionally posts content on her YouTube channel. These videos range from in-depth tutorials to makeup hauls to travel vlogs. Her extensive social media presence attracts numerous makeup lovers. 
"Her online presence is something she really knows how to manage, and she knows how to relate to others online," CHS junior Rahul Rajamani said. "That's how I would describe her account. It's very friendly, very inviting."
While makeup remains an important part of her life, Jamie remains in touch with the other aspects of her life, including academics and culture. Her participation in school activities ranges from art classes to the Academic Decathlon team. Outside of school, she is involved in local Korean cultural events, volunteering frequently for community festivals and more. Soon, Jamie and friends plan to launch a business on Instagram selling self-made art stickers. 
"She's very hardworking, because she's really busy with school and art and all these things, but she still has time to really dedicate herself to this account," Shen said. "She always works hard at everything she does."
Follow Shravya (@shravyamahesh) and @CHSCampusNews on Twitter.