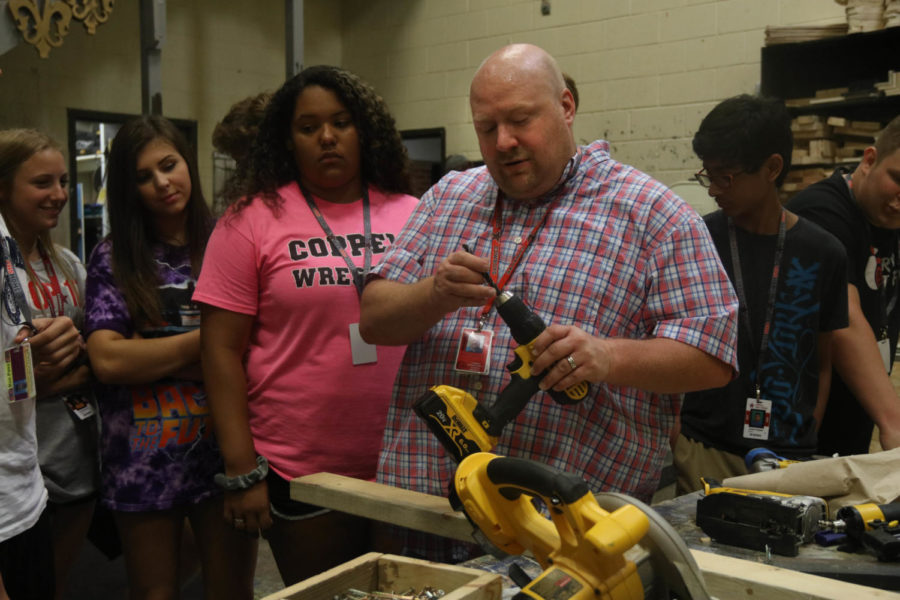 Camila Flores
In F hall, next to the Black Box Theatre behind the auditorium, there is a room. Inside lies the office of Coppell High School technical theater director Dominic Klovensky. 
When Klovensky walks into the room, the class erupts into smiles. Then, when Klovensky insists the Astros and any Houston team is marginally better than Dallas teams, bantering ensues. 
"He relates to us, he doesn't seem distant, he's very kind and [he's] right there for you," senior lighting manager Fran Jaubert said. "He's working with you hand in hand. It's never a, 'he told me do this' it's more of a, 'he's working with me to get this done' deal. He knows what he's doing, and he's supportive." 
Originally from Houston, Klovensky moved to the Dallas/Fort Worth area this summer. Klovensky graduated from Sam Houston State University with a Bachelor's of Fine Arts in technical theater.  
He has taught everything from theater to math, and has coached basketball and soccer. However, he has taught theater the longest. 
Having taught for 11 years, Klovensky knows how to interact with his students. With a warm and encouraging attitude, Klovensky makes sure all of his students feel welcomed and exert as much enthusiasm as him. 
"I love how Mr. Klovensky encourages these students to really take charge and take an active role in being designers and creators in the department," CHS theater director Karen Ruth said. "They're all excited to step up and meet that challenge, and he has a fun energy that keeps kids excited and gets ready to work hard this year and put on some good theater." 
Under Klovensky's guidance, there will be changes made to the theater department, starting with its upcoming musical, "Newsies." 
The theater staff are looking to modernize the department. 
"I'm really looking forward to the fact we're using LED bulbs this year in our musical and that's something we've never done before," Jaubert said. "We're borrowing them from a company, ETS, so I'm really excited to figure that out with him. He seems very in touch with the more modern stuff in theater, especially technical theater, so I'm really excited to figure out how to program that through his support." 
With a vision to expand the tech program, Klovensky is looking for growth and commitment in all aspects of the show. 
"I'm looking forward to growing as a team and being able to get everyone to work together for a common goal of building and having amazing [shows]," Klovensky said. "I want to instill a sense of hard work and responsibility and to welcome all students who want to try tech theater and want to do new things."
Follow Anika (@AnikaArutla) and @CHSCampusNews on Twitter.