Mass shootings drive renewed calls for gun legislation
A little less than a month had passed after the mass shootings in Gilroy, Calif., El Paso and Dayton, Ohio when a fourth mass shooting in Odessa shocked an already horrified nation.
The recent shootings have thrust gun legislation debate back into public focus, out of a desire to stop not only mass shootings, but also other forms of gun violence such as suicides and domestic abuse. Gun safety legislation is often at the core.
"It's not about controlling guns," said Sarah Mitchell, the Plano leader of the Texas chapter of Moms Demand Action for Gun Sense. "It's about the fact that rights come with responsibilities, and laws matter."
As of now, the federal government only mandates background checks for gun sales through licensed vendors, creating a loophole through which guns can be purchased through unlicensed dealers or private sellers (such as at gun shows) without any background checks. 
The loophole can prove especially fatal – the gunman who killed seven people and wounded 22 more in Odessa previously failed a federally mandated background check, but was able to purchase the rifle he used in the shooting from a private person-to-person sale. In Texas, person-to-person sales do not require background checks.
"We don't need to make it easy for people who have already demonstrated propensities for violence or criminal histories to have access to these weapons," Texas state representative Julie Johnson said. "We have protections now for suicide, but I don't think they go far enough in terms of weapon access."
Laws mandating universal background checks for all gun purchases, which are in place in only 12 states, at the federal level would address such loopholes.
"There are things in place, but they can be tightened down significantly," Coppell High School senior Garrett Hardin said. "With the federal and state governments, there are a lot of gaps and missing pieces where people find holes and where problems arise… [passage of] universal background checks is something that needs to happen."
Red flag laws, sometimes called Extreme Risk Protection Orders (ERPOs), allow for the temporary removal of guns from a person in danger of harming themselves or others. Advocates say these laws could have a significant effect on preventing deaths from suicide or homicide.
Many Americans can find common ground on common-sense legislation. The vast majority of Americans support universal background checks; according to a May 22 Quinnipiac poll, 94% of Americans voters supported requiring background checks for all gun purchases. Likewise, an APM Research poll found 77% of voters supported ERPOs from family and 70% supported ERPOs from the police.
However, a disparity exists between elected officials and voters, as bills for measures such as universal background checks have failed to pass Congress. The HR 8 bill was passed in the House in February, but Senate Majority Leader Mitch McConnell has yet to call a Senate vote on the bill.
There have also been calls for an assault weapons ban, primarily for their ability to fire quickly. During the Dayton shooting, the gunman killed nine people in 32 seconds using an assault-style weapon and a high-capacity magazine.
"I question whether or not we need to have high-capacity assault rifles available – that certainly does not serve a valid purpose for self-protection and/or sportsman life," Johnson said.
Congress passed an assault weapons ban in 1994, but the ban expired in 2004 and failed to renew. 
Bump stocks and high-capacity magazines can also increase the fire rate and potency of a firearm. For this reason, bans on such features have been proposed as well.
"No one realistically needs a high-capacity magazine," Hardin said. "You can't logically justify having [high-capacity magazines or bump stocks]."
One of the obstacles to bipartisan gun reform remains the Dickey Amendment of 1996. The amendment states, "none of the funds made available for injury prevention and control at the Centers for Disease Control and Prevention (CDC) may be used to advocate or promote gun control." It was passed resulting from the National Rifle Association lobbying after a CDC-funded study found guns in the home were associated with violence in the home. 
"It's gross how much money has gone into taking away regulation of guns," New Tech High @ Coppell senior Marlee Moe said. The NRA spent over $5 million in 2018 lobbying efforts alone.
There have been calls to repeal the Dickey Amendment since its passage; most notably, 110 House Democrats signed a letter to Congress in October 2015 calling for the repeal of the amendment. 
"It's important for legislators to realize citizens have a right to protect themselves and own, but do so in a responsible way," Hardin said.
Advocates for gun safety say it is entirely possible to preserve the right to own firearms while maintaining a standard of public safety.
"This notion that [gun rights and gun safety] are mutually exclusive is ridiculous to me; I analyze it similarly to driving a car," Johnson said.  "Not everyone is able to achieve a license to safely drive a car. We need to educate voters that basic reforms do not, in any way, limit responsible people from owning weapons."
After four mass shootings – two of them in Texas – the nation waits to see if this time, any difference will be made.
"We cannot continue to ignore we have a problem in our state and country," Johnson said. "We've had Sutherland Springs, Santa Fe, and now El Paso. These communities have experienced unspeakable tragedies that could have been avoided. I hope we can come up with good, common-sense solutions." 
Follow Akansha on Twitter at @akanshas120

Hang on for a minute...we're trying to find some more stories you might like.
About the Contributors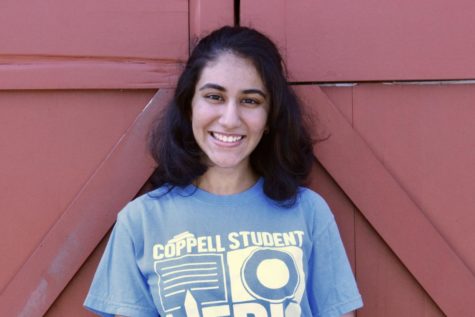 Akansha Singh, Staff Writer
Akansha is a senior and second-year staff writer on the Sidekick. She plays the violin in the Lone Star Youth Orchestra and is the president of the Society...