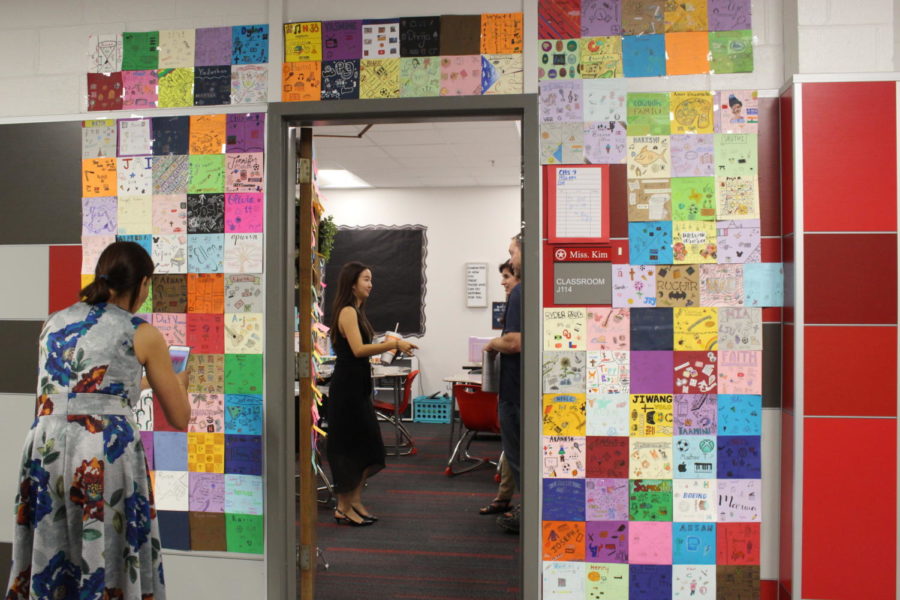 Shivi Sharma
Notes and papers in hand, freshman parents Monty Morris and Shannon Smith walked away from the hallways of busy classrooms on Tuesday after CHS9's Curriculum Night from 6-8 p.m. Getting to know their son's teachers allowed them to explore the campus for the first time.  
"I love it," Morris said. "It's beautiful and huge. It's an amazing campus, and [curriculum night] is a great opportunity to meet [teachers] early in the year and get to know them."
The lack of a set schedule allowed parents to explore classrooms freely and teachers to be flexible with the way they presented their course and classroom.
"I want to see what [students] bring when we really challenge them because last year we could only do so much," honors biology teacher Madhavi Phadke said. "I have the parents going through a few stations, such as [allowing me to] get to know their family, writing some nice words to their kids, looking at microscopes and learning about the syllabus. All the nuts and bolts they want, but without us having to talk through everything."
CHS9 library aide Marcia Moore directed parents to the auditorium for Principal Cody Koontz's opening greeting. 
As they continue to adapt to the nature of the ninth grade campus, many freshmen accompanied their parents to tour their classrooms. 
"I'm excited about how there's [students from Coppell Middle Schools North, East and West] here," freshman Mytri Nayr. "I'm from West, so I get to meet new people from other schools."
Most importantly, the event fostered a connection between students, teachers and parents to enable the campus' success in its second year. 
"It's a rough age, but it's obvious the teachers and the staff here care so much for their kids and want them to do their best," Smith said.