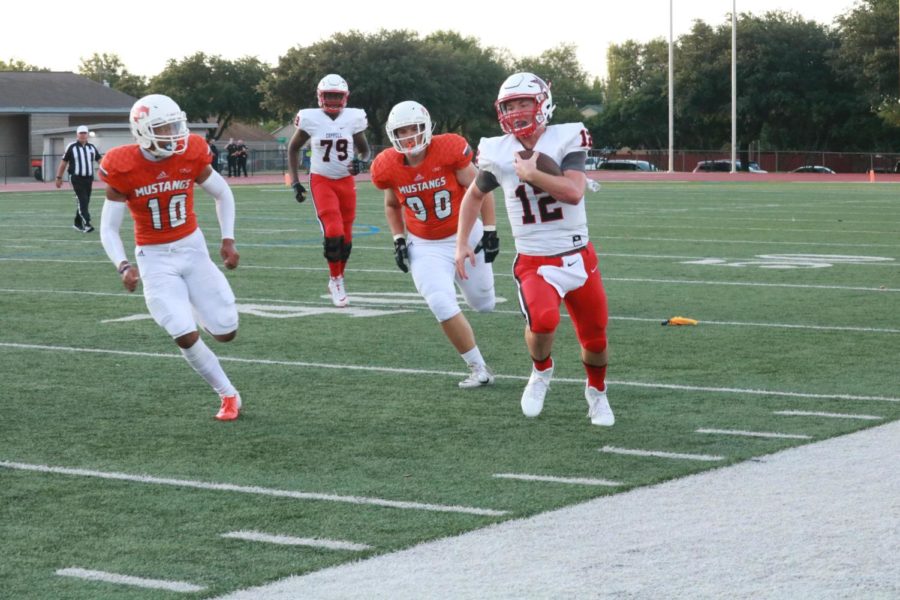 Sydney Rowe
Garland-With 1:33 left in the first game of the season, Coppell sophomore wide receiver Charlie Barker was able to bring the Cowboys within three points with a kickoff return for a touchdown. However, the Mustangs ground game provided to be too much, as the Cowboys fell, 33-30. 
"I saw an opening on the field and cut loose as I moved towards the end zone," Barker said. "Unfortunately, we were unable to score on the last possession, but we have a whole season to work on improving."
The Cowboys open two quick touchdown drives, led by senior quarterback Kevin Shuman – one on a 35–yard pass to sophomore Anthony Black and another on a six–yard quarterback scramble. 
"Kevin played a really good game, he was able to step up and make moves inside and out of the pocket," Coppell coach Mike DeWitt said. "We did some things that dug us a hole early in the game, but we got to move forward and see where the season take us."
The special teams unit had a big game, forcing a safety and recovering a muffed punt. Coppell senior wide receiver Kyle Meister had a good game as a punt returner.
With a 16-13 lead, the Cowboys looked to ride the momentum heading into the second half, but an injury to Shuman changed the game, he did not return to the game. 
The Mustangs were able to score a touchdown on a forced fumble during the third quarter as the Cowboys were unable to get things going on the offense. 
The defense also struggled in the second half, giving up big yards on the ground to junior running back Shon Coleman. The Mustangs efficient ground game helped control the clock, making it much it much harder on the Cowboys to get things moving on both sides.
"We started the game off really well, but their rushing attack broke us down," Coppell defensive coordinator Justin Merchant said. "We need to work on the small things with a lot of energy moving into next week's game."
With junior quarterback Ryan Walker under center near the end of the third quarter, the Cowboys were able to find the endzone once more with a three-yard touchdown run. The Mustangs responded on the next two drives, with a 22–yard touchdown pass and six-yard touchdown run.
The Cowboys return to non-district action Friday at Buddy Echols Field against L.D. Bell at 7 p.m.
Follow Arman (@arman_merch) on Twitter.