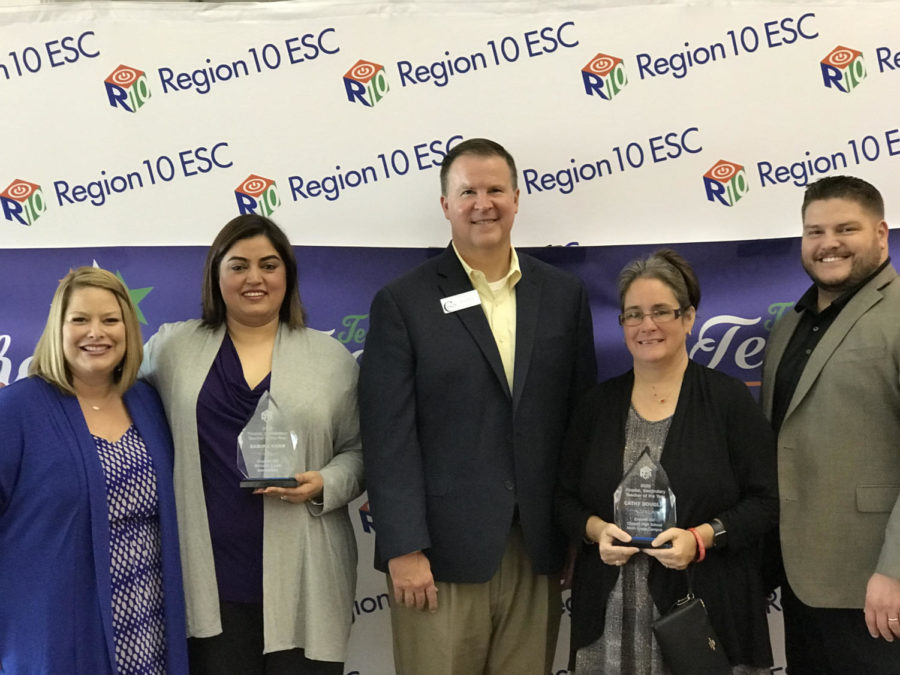 Courtesy Amanda Simpson
CHS9 biology teacher Cathy Douglas and Lee Elementary fifth grade teacher Samira Khan became Region 10 Teacher of the Year finalists. This is the first time in Coppell ISD's 60 years that the district's elementary and secondary teachers of the year both have received this designation.
"You're amongst a group of teachers of the year from 60 school districts, and that's a pool of 56,000 teachers," Douglas said. "To be named in that top group, it was mind blowing."  
After being selected from the staff at their individual campuses, Douglas and Khan earned the title of CISD Teachers of the Year in May, in the secondary and elementary categories, respectively. At the event at Southfork Ranch on Aug. 1, the two were announced as finalists from the 10 county regional area. The Region 10 2020 winners were Marilyn Hamilton from Allen ISD and Micah Rice from Terrell ISD, who will advance to state. 
Being announced as teacher of the year at Lee was a special moment for Khan.
"Before I heard her call out my name, I saw my husband [Furqan] and my son [Dani, 12] come around the corner and it was really sweet to see," Khan said. "It was an honor to be [a] school teacher of the year, but then to be nominated at district, it was an added bonus."
Khan has taught at Lee Elementary since it opened in 2014. Her approach to teaching is centered on student choice, which Lee's model of challenged-based learning supports.
"We're here to guide them and show them how to do things, teach them strategies, but the content of what they want to learn and when they want to learn it should be the driving force," Khan said. "Kids look around their world and see problems to which they can research and find solutions and we try to incorporate our curriculum with that."
With 18 years of teaching experience in CISD, Douglas serves as a leader for other educators in her department at CHS9.
"She gets so excited about biology and science and learning and it's contagious," CHS9 biology teacher Laronna Doggett said. "[Douglas] keeps her family, students and fellow teachers first and she'll help anybody do anything."
Her approach to teaching has evolved over the years, especially after teaching her own son.
"He's my special person, and everyone sitting in my class is somebody's special person," Douglas said. "It just made me realize that you have to meet every kid's individual needs. You want them to be successful, whatever success means to them."