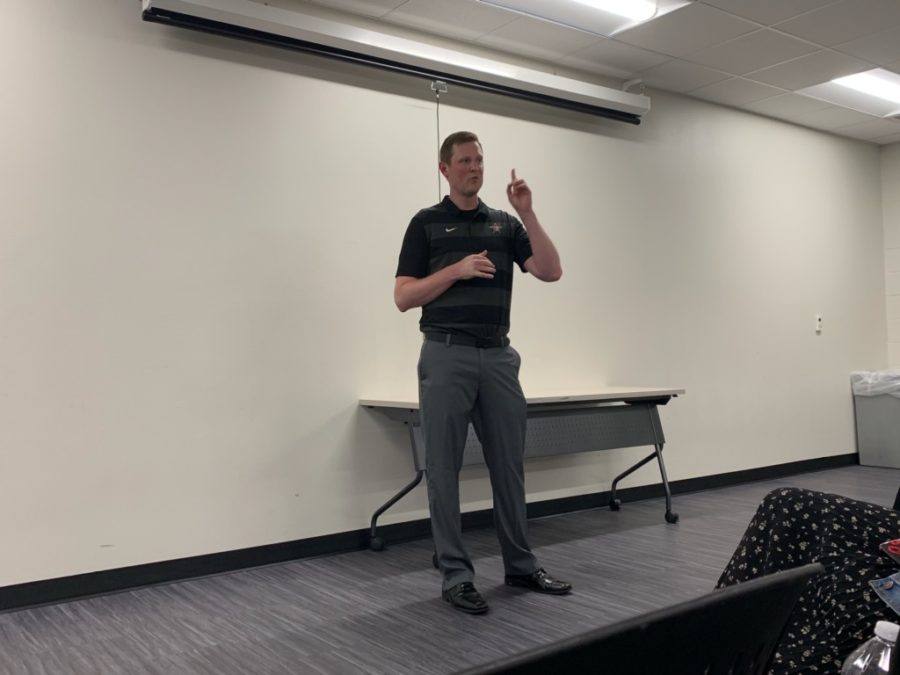 Lilly Gorman
Coppell Boys basketball assistant coach Ryan Murphy has been named head coach for girls basketball at CHS. He has held the position of assistant coach for varsity boys basketball in Coppell for three years and replaces coach Kristen Davis.
"I have a passion for coaching the game of basketball, especially the kids that want to be coached and want to get better and are competitive by nature and have a work ethic," Murphy said. "If you check those boxes, I'm all in." 
Murphy outlined some specific goals for the department to parents and athletes at a meet and greet on Tuesday, focusing on player development and encouraging competition. 
"I'm going to sacrifice some implementing of concepts to focus on player development," Murphy said. "You can run all the different offenses that you want, but if we can't shoot, pass, dribble or finish, we're not going to be very effective. We're going to be motion-based, we're going to be a defensive-first team."
His encouragement will provide the athletes a smooth transition to begin training for the season on Monday.
"We have a lot of talent and we have a lot of girls that work really hard, so we just need to work on gelling together as a team and having a better attitude," Coppell junior Chloe Hassman said. "[Murphy is] something fresh, something new, and he's got a really positive attitude and he really believes in us based on this meeting."
Murphy's prior experiences as assistant coach will allow him to better take on his new position.
"To see your fingerprints on the program as an assistant is fun," Murphy said. I've had a lot of different ideas and things I've wanted to implement in the program and [the head coaches] allowed me to run with that. I feel that being able to be that involved helped me prepare to take over the program."
Coppell ISD Athletic Director Kit Pehl worked with Murphy during his time as head boys basketball coach. Pehl thinks Murphy's experience at CHS and his enthusiasm made him ideal for the role.
"I wanted somebody that would buy into the athletic culture that I'm getting the opportunity to start with in my leadership this coming year," Pehl said. "The thing that excites me most about Coach Murphy is that I don't think there's an aspect of our entire girls basketball program that he's not fired up to be a part of."