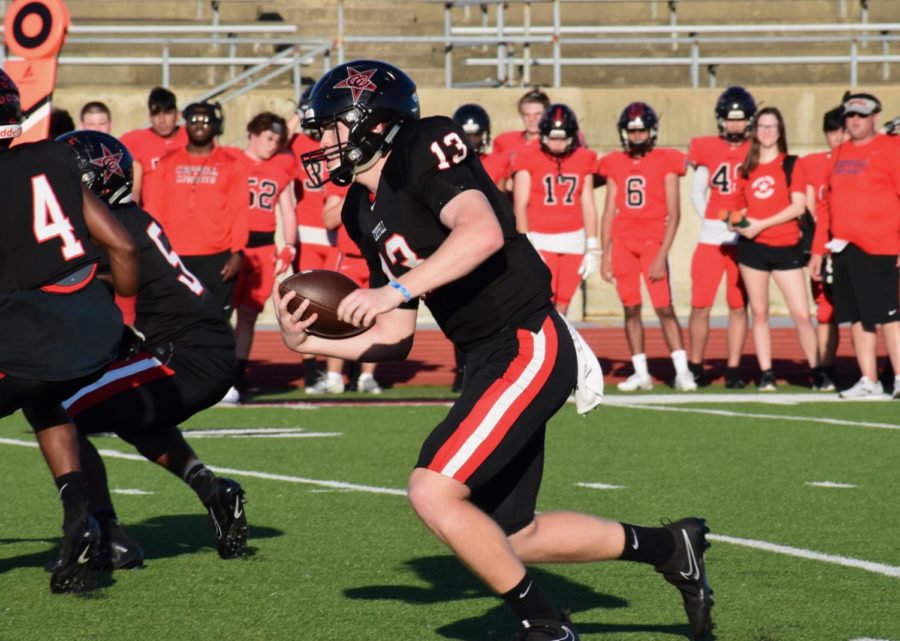 Mari Pletta
The Coppell football team played in the annual spring game last night at Buddy Echols field. The Black team came out on top, 14-7, with a last second touchdown reception by junior wide receiver Tyrese Ward from junior quarterback Drew Cerniglia
As time expired, the Red team failed to find the endzone with a tying attempt.
"We have to get back to training from what we saw on the field tonight, just keep building on what we have accomplished thus far," Coppell coach Mike DeWitt said.
Throughout the game, the teams utilized quick passes towards the sidelines along with short yardage runs up the middle to move the chains.
For the scrimmage, the 2019 varsity team team was split into two evenly-matched teams, Red and Black, in order for the coaching staff, and the players themselves, to get a first look at next year's roster.
The Black team was able to find rhythm through the air with junior Cerniglia able to step up and make throws down the field. Cerniglia also connected well with sophomore receiver Anthony Black, hitting him with passes throughout the game, along with a touchdown reception.
The chemistry could play a prominent role for the team heading into the upcoming season.
"We lost a lot of seniors but we have a bunch of new talent," Cerniglia said. "We are all closer together this year and we are all trying to compete and work even harder."
The Red team also found its place on the field with sophomore quarterback Ryan Walker, who completed a touchdown pass to sophomore receiver D.J. Kiselak, to tie the score at 7. But this was quickly changed on the next position where the Red team turned over the ball to let the Black team coming up on top.
The Cowboys open the season on Aug. 30th at Williams Stadium in Garland against the Sachse Mustangs.