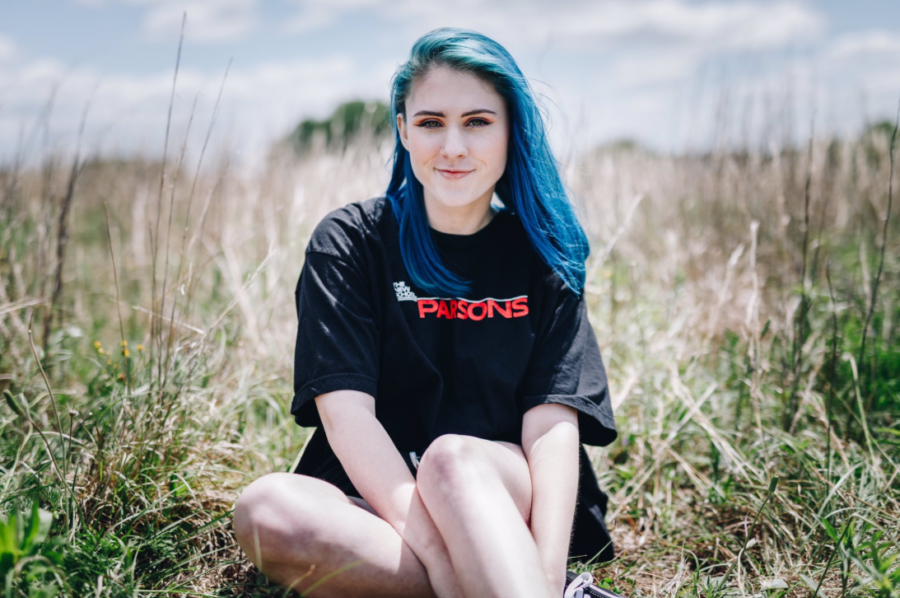 Photo Courtesy Peyton Wallace
A camera lens trains its eye on its subject, and there is a beat of silence as the image focuses and sharpens. Coppell High School senior Peyton Wallace is used to being on both sides of this exchange, as an anchor for KCBY-TV and photographer.
However, that is not the limit of Wallace's artistic skill set, which encompasses graphic design as well.
"Peyton is such a hard worker, she is so creative and hands-on," KCBY senior program director Shania Khan said. "She's really confident in herself and her work, and that confidence kind of radiates, and her positivity radiates."
Wallace's artistic inclinations were evident early, diverging into three areas in high school: film, photography and graphic design.  
"Back [at Cottonwood Creek Elementary], when we had the [physical education] [PE]/music/art classes, my favorite was always art," Wallace said. "As I grew up, I explored different mediums. I've always been more drawn to technology-based stuff. In that sense, it's all media-based and all interconnected."
In sixth grade, a shared interest in beauty and makeup inspired Wallace and her friends, fellow KCBY-TV members and seniors Khan and Lindsey Reimer, to begin a YouTube channel called Sirens. Filming and editing videos with her friends grew Wallace's passion for film. She joined KCBY her junior year and is currently special features director.
"One thing about art is you can pull from the people around you," Wallace said. "Being surrounded by all these other like-minded students, there's a lot of creative energy you can take from, and that motivates you to do your best work and do your most creative work."
In the KCBY-TV program, Wallace is not only able to find inspiration, but also a place where she learns about running a business through practical experience.
"[Wallace] is an independent thinker, and she's analytical, in addition to having a good marketing mind," KCBY-TV adviser Irma Kennedy said. "If she felt like something wasn't working, she would put presentations together and pitch her ideas to the program directors and I to have her voice heard."
Being filmed for KCBY has helped build Wallace's confidence.
"Being an anchor for KCBY has really helped me blossom into a person I can say I'm proud of," Wallace said. "When you're in front of a camera, there's probably three people looking at you, the lights are shining on you and you kind of have a lot of pressure on you to not mess up."
Capturing a moment through a photo and directly narrating a story through film are often thought of as very different processes. For Wallace, her skills in all three areas complement each other.
"People who are more artistically inclined definitely have a different view of the world, and that goes into every aspect of their lives," Wallace said. "In that sense, I definitely have a natural eye in seeing how shots should be set up, where the viewer's' eye will be drawn to [and] what's going to stand out."
Wallace purchased her first camera sophomore year. Since then, she has explored many styles through numerous shoots with friends and found what she calls her own.
"I like dynamic things [that are] powerful and crazy and creative," Wallace said. "For photography, my style [involves] high-contrast, vibrant colors, darker tones and playing with shadows."
Wallace's job at wedding photography company Zenith Media has allowed her to learn event photography as well.
"I get behind-the-scenes shots, [and] I get candids and family shots and posed shots," Wallace said. "[But] I definitely think after all this time I'm most drawn to portrait photography, spur of the moment. I'm not really a studio photography type of person. Exploring through high school, I've just been doing everything I can and trying everything I can."
Her extensive experience in these artistic mediums has influenced her chosen major. Wallace will be attending Parsons School of Design at the New School next fall, working towards a Bachelor of Business Administration in strategic design and management, which blends the worlds of art and business.  
"Art is a very competitive field to pursue a major or a job in," Wallace said. "Most artists aren't business people, because they have the artistic mind but not the business mind. If you think about what a company's looking for, they're looking for design and they're also looking for someone to do the business side. If we merge both of those aspects together, I'll be a very well rounded person [with] a broad range of skills."
The New School is located in New York City, a significant shift from suburban Coppell.
"Being in New York City, [the largest city in the country], there's such a high demand for what I'm doing," Wallace said. "There's a community of artists who are willing to create, and then there are all these companies that want interns with creative minds who are ready to come into the workforce and use their art to the company's advantage. It's going to be a big change, but I think I'll adapt nicely and really find my calling there."
View Wallace's stunning work through her online portfolio.