Vivacé! tradition continues with "We Are Family" show
On Saturday night, the tradition of Vivacé! was passed on from senior to freshman at the "We Are Family" show.
Vivacé! is a mixed show choir made up of students from all grades and sections of choir. After a multi-level audition process, those who pass are brought together to perform in the annual Vivacé! show.
This year's theme, "We Are Family", spotlighted the close bonds people share with one another. The performance pieces accentuated this message, the group singing songs such as "Flashlight", "Friends" theme "I'll Be There For You" and titular "We Are Family".
"[Choir director Aaron Coronado] and I wanted to start building this culture of 'choir is one big family'," CHS director of choirs Bona Coogle said. "We want everyone to feel accepted and loved and work together. I think the message came across really well. All of the Vivace! members feel very loved and like this was a very positive experience."
As the group underwent dress changes and transitioned from song to song, certain members came to center stage to perform short solos, duets and mini group songs. These were often emotional, as CHS seniors Kealani Garrett and Joie Lew teared up while performing "For Good".
"I was nervous about performing a song that was so emotionally connecting," Lew said. "'For Good' was really hard to pull off, especially since I was with my best friend and we were crying on stage together."
The theme of family stretched past the stage and into the audience, where a sea of blue supporter shirts cheered and hollered throughout the show. Each of the transition performances and solo portions were met with a loud shout of the performer's name and wild applause immediately after.
"At first you get nervous, but when you walk out and you hear everybody cheer your name and see parents and friends in the audience, that's when everything just disappears," CHS9 freshman Faiza Rahman said.
Such a theme of family could not have been more fitting for a group such as Vivacé!. Students from different Coppell ISD schools, grades and choir groups, everyone came together to put on the show, practicing for days and hours outside of school. The time spent together was showcased in short videos played alongside the performances.
"Vivace! is a group first, but besides a group, we're also family," Lew said. "We're people who are bonding together and creating lasting memories, and I think this theme is perfect for what the idea of this group is."
Family has always been an unspoken theme within Vivacé!, as is seen in the performance of "Come Sail Away". Every year, the current members invite Vivacé! alumni to the stage to join them in performing the song.
"It's one of those tradition pieces that means a lot to the members, because that's what brings everyone together," Coogle said. "That's one component they really look forward to."
Such traditions bind the Vivacé family of years past and present together. Through difficulties, hardships and experience, the group comes together to be the family for one another.
"This year has been a wild ride," Lew said. "We've gone through a lot of hardships and issues, but in the end we came out really strong and we created something that we're all proud of."
Follow Shravya on Twitter @shravyamahesh.
About the Contributor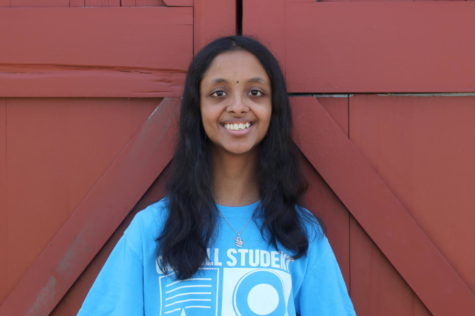 Shravya Mahesh, Entertainment Editor
Shravya Mahesh is a senior and Entertainment Editor for The Sidekick. You can usually find her blasting pop music in her room, snacking on cookies while...