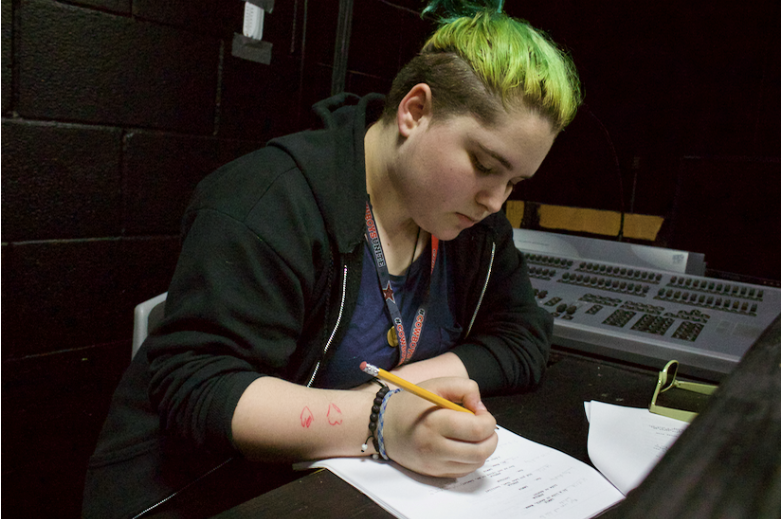 Charlotte Vanyo
Coppell High School junior Ashlyn Peterman expresses love for special effects makeup and stage managing for school shows. Peterman's creative monster-like makeup and strong capability in stage managing makes her stand out from the crowd. Peterman was chosen as The Sidekick's Student of the Week.
How did you get into makeup?
I first got into makeup though a theater class in [Forestwood Middle School in Flower Mound], and then I started exploring it more because I really love horror movies. I really enjoyed the practical effects in my favorite horror movies like Friday the show 13th and A Nightmare on Elm Street, and I wanted to start working and making stuff like that, so that's what I started doing.
What do you love about your style?
I feel like my aesthetic has always been horror, alternative spooky stuff. I love that kind of world. It's so fascinating and something else that got me into it was the idea of how we as people react to fear, and the psychology behind that and what makes things scary. That's always been so fascinating to me. I love the way we can take all these ideas we have and make them real in movies and television shows and stories. My favorite type of horror is not scary but disturbing, that underlining spookiness.
Where do you get inspiration?
I honestly don't think I have anyone specifically that inspires me. I've collected different things from different people online and communities, but the thing I always go to [for being] creative and building a narrative around characters is definitely music. Music has always been a source of a creative outlet for me. I think you can do a lot with music and just the atmosphere. I like to use music and podcasts, and I like documentaries.
What made you get into being a technician?
I got into being a technician because I took the gig for "The Addams Family" to do makeup and ever since then I loved theater and being a technician and being backstage. The reason I gravitated so heavily towards stage management is because I get to be a part of that process that builds a world. Watching the actors and characters grow, the set be built, the technicians work – I like to see that creative world be put together. I get to sit down the day of the opening show and make that happen for all those audience members. It's just so fun to be part of that experience.
Do you see technical theater or makeup as a career option?
Definitely, I want to go to college to get a production degree in theater, or creating designs for theme parks or for management. My dream job would be working as a technician either building set or just as a member of a crew for a haunted house. That would be so fun to be apart of something like that. Just to work with haunted houses or to work with designing the cue lines for Disney World, something like that sounds like so much fun.