Teacher of the Week: How Dunlevy balances Money Matters and soccer
Ryan Dunlevy is the head coach of the Coppell High School girls' soccer team. Born in Haslet,  Dunlevy comes from a family of educators. His passion for soccer translates from his college days into his teaching career, as he teaches Money Matters, a personal finance class at CHS.
What is it like teaching Money Matters and coaching soccer?
Soccer is a very big time consumer; I spend a lot of late nights watching film and going through practice. I have always been a teacher and then a coach. Growing up, my mom was a principal, so education has always been important to me. This year, being able to teach a personal finance class, something that is applicable to every kid at CHS, really makes it easy for me. I am excited to be in my classroom every day, teaching them something new they can really use.
Why did you decide to teach Money Matters?
I've taught social studies almost my whole career. This summer, when [former assistant softball coach Brittany Lee] left, she had helped bring in this new class for the first time it had ever been offered at CHS. She was on the schedule to teach this class, and [then] she moved to Lovejoy. [Money Matters] is a passion of mine; I am going through my own shift in personal finance right now. It is a great class as far as teaching people how to save, how to invest, how to deal with retirement, how to deal with insurance and how to buy a car. Real life stuff.
What is your favorite part about teaching soccer?
Soccer has always been a love of mine. I played all through college [at Hardin Simmons and East Texas Baptist], all through high school [at North West High School] and growing up; but what I really love is being able to teach life lessons that are very hard to recreate in a classroom. I get to teach them through the sport of soccer, whether it's involved in a team aspect, or a competition. Teaching these kids and being able to guide them through these tough situations that we come into throughout the season, [and teaching] some of the life lessons they'll be able to use in the next phase and into their working life.
What is it like being a head coach?
It is a lot. There is a lot that goes into it, more than I even realized when I got here, but I love it. I have a great staff with a couple other coaches. They do a phenomenal job and together we get everything, plus some, done. Not only being able to have an impact on the kids at the high school, but also the kids at the middle schools, the community and the youth of Coppell as a coach is really cool to me.
What are the biggest differences between teaching Money Matters and soccer?
It is the relationship side of things because I spend a lot more time with my soccer kids, so I get a bit of a deeper connection with them. I have them year round, for all four years. By the time they get to be seniors, [soccer players] and I have gotten pretty close. In my classroom, I am different. [With coaching], I am very structured and rigid in the way we do things, but [with teaching], I take a step back. It is more about social learning, getting into groups, having conversations, seeing [the student's] point of view and opinions and working through the content together.
Is it hard seeing the soccer seniors graduate?
Definitely. You have invested four years into them, and you have gone through a lot of things: tears, smiles, laughs and yells, just like a family would. After those four years, it is sad to see them go, but at the same time, it is cool to watch them go into their next phase, knowing you helped prepare them for it.

Hang on for a minute...we're trying to find some more stories you might like.
About the Writer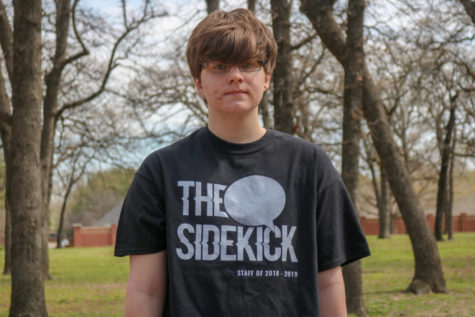 Ryan Dyke, Staff Writer
Ryan Dyke is avid movie fan and a short-story author. His favorite movie is The Thing (1982) and his favorite book is Challenger Deep.