"The Mariachis"
Dual Language program nurtures strong friendships
CHS9 freshmen Aidan Dwyer, Chris Conger, Collin Bloodworth, Lucas Mears and Luis Vargas have grown up in Coppell ISD's Dual Language Immersion (DLI) program together since attending Denton Creek Elementary. Their friendship was cemented when fifth grade Spanish DLI teacher Maricela Leon coined a fitting nickname: the Mariachis. Mariachi music originated in Mexico, and is performed by small bands of at least four musicians.
"The boys were always together, for good and for bad," Leon said. "They were misbehaving once and I said 'I'm done with you guys', and sent the five of them to the office. I said 'you look like a bunch of Mariachis together, you need to get some independence'."
The DLI program aims for fluency in both English and Spanish for its participants by teaching and assessing both languages throughout their academic career.
"From year to year, we grew with each other," Mears said. "My mom wanted me to grow up speaking Spanish because my grandparents speak Spanish and she wanted me to be able to communicate with them."
Being taught multiple languages successfully at an early age is known to have significant cognitive and communicative benefits.
"Whenever we go to different Spanish-speaking places, people can understand you better and it will be good to use later in life," Bloodworth said.
The program is primarily made of elementary students, with less students continuing to the middle school level. In eighth grade, the curriculum combines Spanish I and II into a single year, while Spanish III is taken freshman year. Beyond CHS9, AP Spanish conversational classes provide opportunities to maintain bilingual students' abilities in the language.
"The program is for anybody who wants to be bilingual, not just hispanic natives," CHS9 Spanish and DLI teacher Reyna Conger said. "It's proven that if you know English and Spanish you can speak with 80% of the population around the world."
Currently, Denton Creek, Wilson Elementary and Coppell Middle School North are the only campuses in CISD to offer a bilingual learning system. Of the 240 students participating in dual language learning district-wide, there are approximately 30 students in the program at CHS9. The small size of the group allows the classroom environment to be close-knit.
"You're with the same people every year, so you get really close to people you barely even knew," Dwyer said. "The people that were in my classes, they were like my brothers and sisters."
The boys' friendship has brought their families together as well.
"We're called the Mariachi moms, and got to know each other after they became friends," Conger said. "In fact, we're having dinner [together] tonight. They're silly [at times], but they take care of each other."
The five are particularly special to Leon, who taught the group for both their fourth and fifth grade years.
"Any soccer game, any baseball game, any play, they will invite me and make me a part of it," Leon said. "I was like a second mom to them. I miss them every day."
The program is not currently looking to expand, though it may if prompted by more interest from parents. It takes time to train teachers to teach bilingually, though most have a deeper, personal connection to the program.
"I was born and raised in Monterey, Mexico," Leon said. "My culture is all about family, food and friends, so I try to create that environment for my students as well. For me, it is not a job, it is a passion that you share with your students."
Though the nickname may fade with time, hopefully the five will maintain the friendship they created in and out of the classroom as children.
"They have grown up together over many years," Conger said. Her son Chris is a part of the program, and the five boys are all in her second period Spanish class. "[Managing] the discipline and talking can be a bit difficult [in the classroom], but I wouldn't want it any other way. I hope they can keep those friendships, going through college, [maybe even] attending each other's weddings."
About the Contributor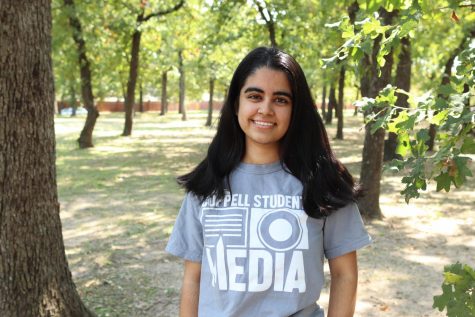 Shivi Sharma, Executive News Editor
Shivi Sharma is a senior and Executive News Editor for The Sidekick. She is part of the IB Diploma Programme at CHS and also edits for Brown Girl Magazine....