Holmes places first chair in state, keeps up with dynamics of music
Coppell High School senior Trevor Holmes sat anxiously in the lobby as he waited for the Texas Music Educators Association (TMEA) All-State Convention chair placements to be released.
Finally, the results were posted on a board and upon first glance, Holmes quickly found his name at the top, meaning he had placed first chair in the state.
"I was super excited," Holmes said. "I was ecstatic. I texted my parents. I wasn't expecting it. My goal was top four or five or something. When I saw I got first, I was just so happy, like the emotion just started flooding out. It was definitely really memorable."
This was last year. He auditioned again this year at the Henry B. Gonzalez Convention Center in San Antonio from Feb. 13-16, where he placed first as well.
The process to get to All-State is a long one. Études, difficult musical compositions, are released in mid-July, and students practice and perform them for the TMEA All-Region auditions in the first week of December, which take place at CHS. From there, the top eight or nine students move to the TMEA area auditions in early January, also at CHS. The top six students there advance to All-State, where they participate in a chair placement test.
Because he placed first, Holmes had the chance to choose between being in the All-State orchestra or band, and he chose the orchestra.
Holmes's private lesson teacher, Dr. Jared Hunt of Coppell, has taught him since his freshman year and helped him prepare for these auditions.
"I'm proud of him, that's exciting," Hunt said. "It's cool to have two years in a row, and we've been really fortunate. I've been fortunate here to work with really good students. I've been here four years, and we've now had 10 trumpets make All-State, which is pretty awesome. I'm excited as his teacher knowing that I've worked with him, but it's cool to see how excited he is and to represent Coppell."
CHS senior trumpet player Ethan Miller has known Holmes since sixth grade.
"I felt really happy for him," Miller said. "It's a big accomplishment and certainly, there's a lot of practice involved and a lot of effort he put in, so I'm really happy for him."
After placing first, Holmes went on to compete at the National Trumpet Competition at the University of Kentucky from March 13-16, where he played in the Schilke Music Products High School Solo Division with a piano accompaniment. He placed third in the country.
Holmes's journey with trumpet began in sixth grade at Coppell Middle School North, in which he played in the beginner band. In seventh grade, he moved up to the second-best band, Symphonic Band, and in eighth grade, he moved to the best band, Honor Winds.
At CHS, he was in the Symphonic Band his freshman year, and the top band, the Wind Symphony from sophomore year onwards.
"I was incredibly proud," Holmes's mother, Jennifer Holmes, said. "Texas is a very competitive music state, and I know how intense these chair competitions are, and he has nerves of steel. It's very impressive."
CHS senior Supratik Pochampally met Holmes in seventh grade in the All-City band, a band consisting of the three Coppell middle schools, and has been able to see his work ethic.
"For school, he's a very hardworking student," Pochampally said. "I know he studies very hard, [and] he's ranked in the top five percent. As a musician, he also practices a lot as well. Since freshman year, we've both been taking our trumpets home every single day, and he's been practicing consistently. That helped him towards his music career, because he has the consistency that he needs and the drive to get better and improve."
Throughout middle school and high school, Holmes has learned from music.
"It definitely teaches you a lot of very valuable lessons," Holmes said. "For one, it teaches you dedication, because to be an accomplished musician, you have to be dedicated, there's no way around it. You have to learn how to manage your time well; practicing does take time. It's going to take time out of your schoolwork, or [your] job. You just need to learn your time management skills."
CHS band director Gerry Miller has witnessed firsthand his growth in music.
"He's grown tremendously musically," Gerry Miller said. "What I found in him starting out was a very competent, well-trained, well-taught trumpet player; what he's become is a musician and an artist, and that's different. It takes lots of experience, and just playing all different styles and talking through conceptually how we're going to make things work artistically. So much of his journey has been from being a very solid, well-taught trumpet player into becoming someone who is an artist."
Holmes wishes to continue playing trumpet in college. He is interested in the Columbia-Juilliard Program, in which he would study at both Columbia University and the Juilliard School, but is unsure what major he wishes to pursue at Columbia.
Regardless of his choices, music has been and will continue to be an important part of his life.
"My favorite part of being a musician is probably creating music because music is really a beautiful thing," Holmes said. "It can connect with so many people, in ways that you never would have been able to connect with them before. Music really does transcend all languages. Many people who I would have never talked to before, never met before, I've met them through music. It's a really powerful tool of connection."
Follow Sofía on Twitter at @sofia_i_g
About the Contributors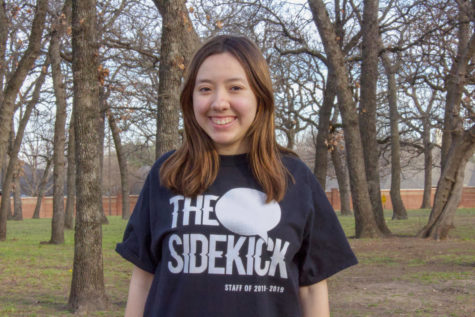 Sofia Guerrero, Co-Student Life Editor
Sofia Guerrero is a senior third-year staffer and the Co-Student Life editor for The Sidekick newspaper. She is an aspiring journalist and pianist and...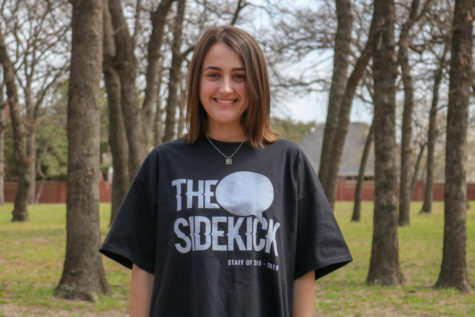 Bren Flechtner, Photography Editor
Bren Flechtner is a senior and third year staffer on The Sidekick. In her free time, she enjoys sewing, taking photos and spending time with friends...