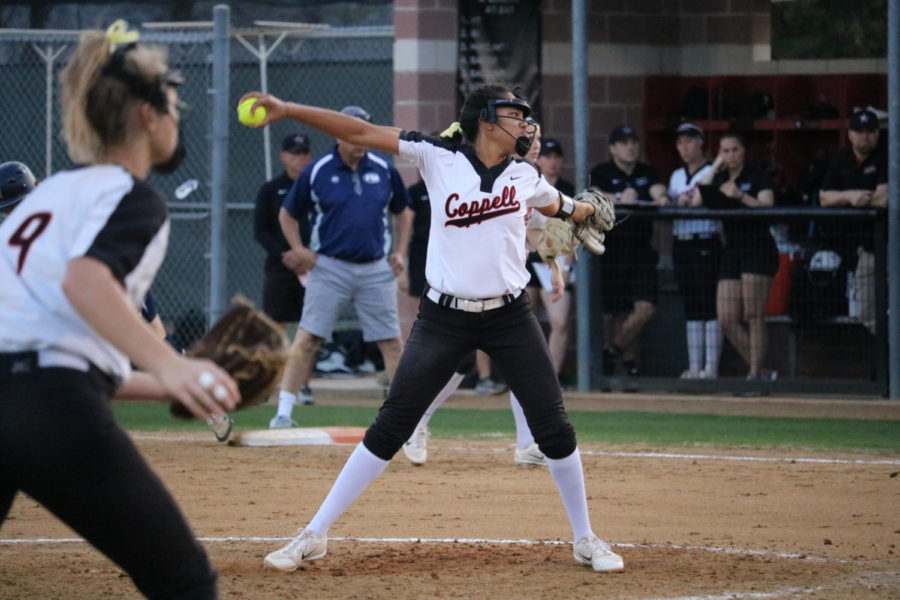 Bren Flechtner
Against one of the area's top team, the Coppell softball team came up just short on Friday night in a 3-2 loss to Flower Mound at the Coppell ISD Baseball/Softball Complex.
At the top of the sixth inning, Flower Mound scored the winning run to break 2-2 tie as the Cowgirls could not answer.
The game remained scoreless until the fourth inning opened, when the Jaguars scored to take a 1-0 lead. Senior center fielder Kaitlyn O'Quinn tripled to tie the game for the Cowgirls.
"[O'Quinn] is a really smart and outstanding young lady," Coppell coach Mike Dyson said. "She's a real leader on the field."
Senior Nora Rodriguez pitched for six innings, recording three strikeouts while doubling at the plate.
"Tonight we had a tough loss," Rodriguez said. "We knew Flower Mound would put up a strong fight when we were heading into the game and we need to remain unphased when playing against talented teams."
The Cowgirls are 15-6 and 3-3 in District 6-6A. Flower Mound is 12-9-1 and 5-1 in district.
"We have to prepare for our next game and come out stronger at the beginning of all of our games," junior outfielder Chloe Barker said. "We're going to focus more on opening innings and try to score earlier."
Coppell softball returns to action for their seventh district match at Irving Nimitz on Tuesday at 7 p.m.
Follow @SidekickSports on Twitter for more campus sports news.