CHS theater chills audience with UIL One Act performance of "Property Rites"
Ten weeks of hard work by the Coppell High School theater department culminated in Wednesday night's preview of the UIL One Act performance, "Property Rites" by Alan Haehnel. The 40-minute production was presented in the CHS auditorium and is the competition show used for the upcoming UIL One Act Play competition, which will be held on Wednesday at Lewisville High School.
The plot revolves around robots meant to be bought and sold, and used like other computers. After some mishandling by their bumbling, broke salesman, Kyle (New Tech High  @ Coppell junior Ryan McCord), the robots begin to become human. To escape the damage, Kyle intends on inflicting in hopes of collecting insurance money, the robots must attain full autonomy and fight back against their owner, for their own rights as their own person.
Audience members walked in to see open curtains on the stage, with large platforms displaying eight chairs. When the show begins and actors file in from the wings, each chair matched to one of the "figures", the robots.
A brief moment of complete darkness onstage, then the figures begin to sing.
The simple yet captivating tune is played with chilling background instrumentals, setting the tone of the entire show. Despite the comedy which peppered the events of the play, the genre is distinctly drama.
"The story is basically about a bunch of robots coming to life and fighting for themselves, and also about how scary it is for different things, like technology, and anything unfamiliar to people to come to live and confront them," CHS junior Sophia Sircar said. "The real world reacts to that. It's hard for people to fight for their lives, but when they are really motivated and when they get that final push, then they will, and they will break free."
Sircar's character, Figure 3, is the first of the robots to make the full transition to life.
Costuming and lighting play a large role in the visual effects of that transition. A red light behind one of the set pieces casts a glow on the silver and black of the robots' outfits throughout the entire scene.
The show, which features an entirely female robot cast, can be interpreted to a feminist view, which is very modern and progressive topic.
"Lots of the story revolves around feminism," McCord said. "[Women] have been neglected for so long, and that's a powerful message that needs to be sent. Using theater as a medium to do that is a really good way to promote change."
The story holds other messages for audiences as well.
"We've got two big messages," CHS theater director Karen Ruth said. "The first one is about technology, and how it is getting smarter and smarter. When is smart technology too smart, and when it gets too smart, what happens? We are pretty much almost there – there are self driving cars. What happens when that technology gets smarter than we are? There's also the element of ownership, being your own person and having your own say. At what point are you a person that gets to have a say? It's not just becoming a person from a robot, it's going from a child to an adult. When do you have the right to speak for yourself? And does anybody have the right to own you?"
Ruth selected the show as CHS's competition piece. UIL rules state the piece must be a single act, and the time rules allow seven minutes for setting the entire stage, 40 minutes to perform the show and seven minutes to strike the set.
"UIL shows are traditionally a bit more dramatic, a bit more serious with more heavy subject matter," Ruth said. "I just didn't want to direct that for 10 weeks. I wanted to try something new and shake things up. I wanted to have something challenging to the students in different ways with different styles of acting, something that just brings a different flavor to this competition."
Enormous amounts of detail was added to the production, including the use of fake blood which one of the robots holds in her mouth until the moment came to let it drip out and small tattoos on the backs of the robots' necks of the Celtic triskele. The triskele is used throughout the entire set design, and holds the significant meaning of life, death and rebirth in the Celtic religion.
From the haunting music of the beginning to the chilling end which left the audience stunned, the cast and crew successfully produced an impactful show.
"We definitely get a lot more nitpicky and very specific with some of the notes we do," McCord said. "Every word, every line has to be exact to the script or else we could get disqualified. Also, we have to make sure there are no little errors, so it all has to be very clean to the eye. We have to do a lot more intense work."
CHS will be the last performance of the day on Wednesday during the competition at Lewisville High School. They are scheduled to start at 5:50 p.m., and anyone who wishes to watch will be allowed in at 5:00 p.m.
Hang on for a minute...we're trying to find some more stories you might like.
About the Contributors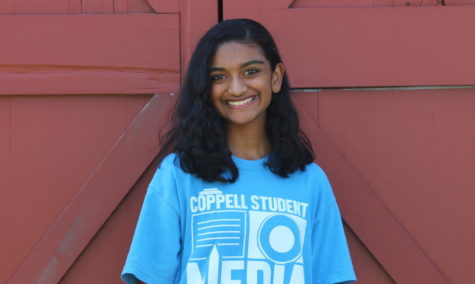 Sally Parampottil, Executive Sports Editor
Sally is a junior and the Executive Sports Editor on The Sidekick. When not working on homework or other school-related activities, she can be found rewatching...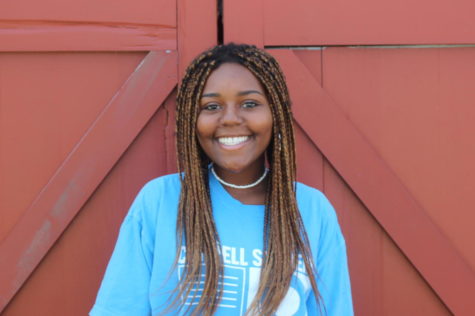 Neveah Jones, Staff Photographer
Neveah Jones is a junior and second-year staff photographer. Neveah is involved in Student Council and National Honors Society.