Leadership through legislation
Reddy strengthens speech skills as CHS's sole congressional debater, MUN president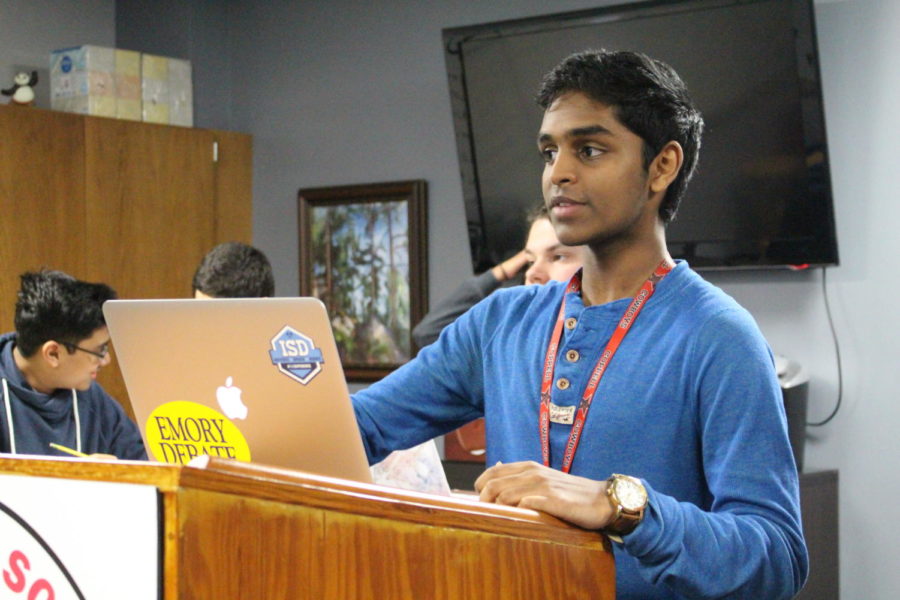 As the only student who competes in congressional debate at Coppell High School, junior Bhavik Reddy faced an uphill climb from the start. To earn his spot in the Tournament of Champions, the most prestigious debate tournament in the nation, Reddy had to develop his oratory skills in an undeveloped section of the debate program and utilize them against high-level competition.
Reddy attended the 45th Harvard National Forensics Tournament in Boston from Feb. 16-18. It was a large event with more than 500 competitors, in which Reddy advanced to semifinals. Although he did not advance to finals, he earned the second of the two bids needed to qualify for the Tournament of Champions, which will take place in Lexington, Ky. from April 27-29.
"I was completely elated," Reddy said. "It was exciting that all the hard work and dedication I put in amounted to something great."
Bids are earned when the debater places high enough in select regional and national competitions. Reddy earned his first at Glenbrooks Tournament in Chicago, which took place Nov. 16-18, and, with his second from Harvard, will attend the Tournament of Champions alongside fellow CHS juniors Het Desai and Shreyas Rajagopal, who both compete in policy debate, which deals directly with policy changes by the U.S. government.
Debate has been part of Reddy's life since freshman year.
"I joined debate because I really wanted to express my ideas in a formative way," Reddy said. "I continued because I did find success, and I met so many great people."
Debate itself is a program requiring heavy amounts of research and preparation. In Coppell, there is a strong focus on policy debate, but not so much on Reddy's event.
"[Reddy] does congressional debate, and that's something more popular in the Plano schools and South Lake," CHS debate coach Dr. Jason Sykes said. "It hasn't been the focus of this team. He's kind of been like a lone wolf in some ways, and he's had to navigate his own path in some ways. That demonstrates unless he was willing to persevere, then he wouldn't have had the success that he has."
Congressional debate involves the back and forth of passing bills and laws. It replicates the actual U.S. Congress in format and style.
"[Congressional debate] has the most real-world application of any of the debate events," Reddy said. "The actual U.S. Congress obviously exists, and they do have debate in there. It's interesting to be able to argue and replicate what the real debaters do."
Reddy also develops his speech skills through participation in Model United Nations (MUN) at CHS, where he serves as the club's president. In MUN, members simulate U.N. conferences, where each person represents a country and serves as a delegate in various committees. Contrasting countries' views on the issue fosters debate, and for competitors to win awards at the conference, they must have the same strong speech skills a good debater would have.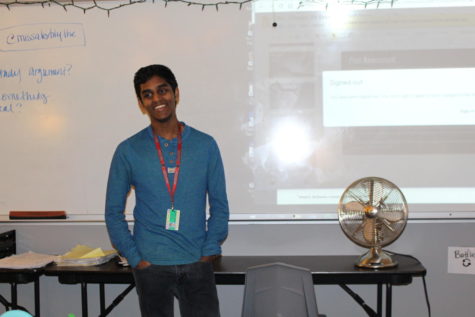 "He's a really great speaker," CHS junior MUN member Nitin Naresh said. "He's a really good public speaker, and he talks with a lot of emotion and uses a lot of hand motions which really helps you understand what he's saying. The main thing is he's always prepared and always knowledgeable about his topic. "
The most recent MUN conference Reddy attended was the TXMUN YMCA regional conference in Richardson on Feb. 9. There, he represented Indonesia in the UNICEF committee and received the Best Delegate Award, which is first place.
Reddy has won six individual awards at MUN conferences since he joined the club in his freshman year. Three of those six have been Best Delegate awards.
Parliamentary procedures are used during both MUN conferences and congressional debate sessions, which means Reddy has double opportunity to practice. While a newcomer may find the many aspects of the process and the fast-paced, fluid environment of a conference to be intimidating, Reddy is more comfortable.
"When they don't know what to say, a lot of people just stutter," Naresh said. "[Reddy] is always just confident, and he knows what to say."
Confidence, in both MUN and debate, serves as one of the crucial aspects in every competitor.
"To me, the most important element is tenacity," Dr. Sykes said. "Bhavik is tenacious. Bhavik is someone who sees himself as successful, and that's an important component to winning, because if you don't see yourself winning, it's difficult to make it happen."
Reddy has taken measures outside of school to improve in debate, including attending camps such as the Institute for Speech and Debate in Florida. With another year ahead of him in the program and preparing for the Tournament of Champions this year, Reddy has much to look forward to.
"You wouldn't believe it by interacting with him, but Bhavik is still young," Dr. Sykes said. "One of the things I'm looking forward to from Bhavik over the next 14 months or so is the leadership he provides. He's very interested in bringing more people to congressional debate. As we grow the congress portion of our program, he will be very important to leading that effort and providing a model for younger debaters."
Follow Sally (@sparampottil) on Twitter.
About the Contributors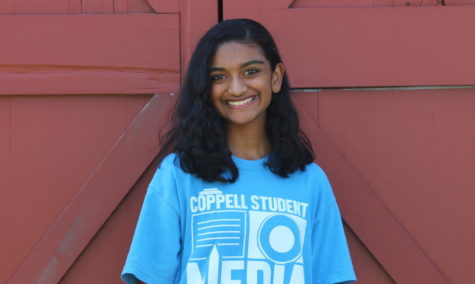 Sally Parampottil, Executive Sports Editor
Sally is a junior and the Executive Sports Editor on The Sidekick. When not working on homework or other school-related activities, she can be found rewatching...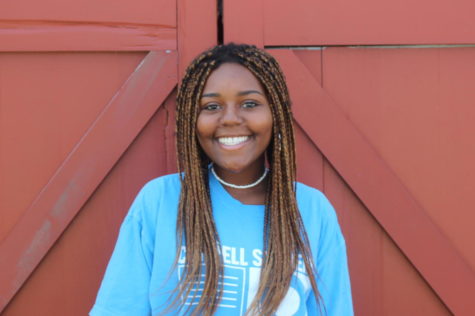 Neveah Jones, Staff Photographer
Neveah Jones is a junior and second-year staff photographer. Neveah is involved in Student Council and National Honors Society.