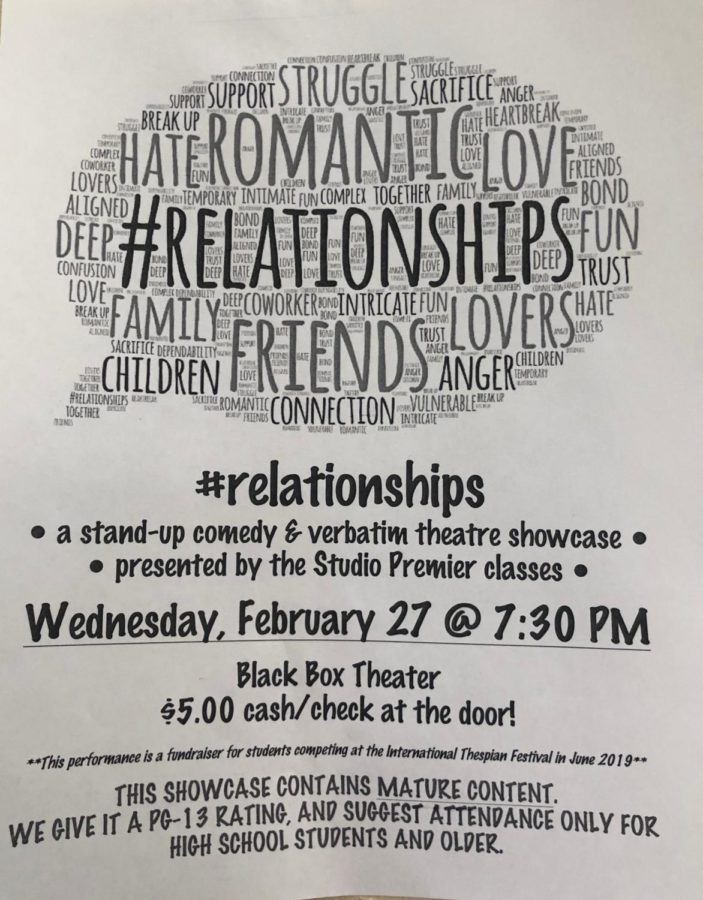 Bren Flechtner
On Wednesday, the Coppell High School Theater Studio Premier classes perform their show, "#relationships".
Featuring both original stand-up comedy and verbatim theatre sets, the show takes audiences through several comedic skits dealing with relationships between friends, family, deities and more. All pieces are taken from the students' real life experiences.
"It's going to be really interesting, and my favorite thing about this show is that it's 100 percent student created," CHS theater director Karen Ruth said. "Everything you see is going to be made and created by the students that we have here. They made it, and I love that."
#relationships is a fundraiser for the department and those students advancing to the next level of the International Thespian Festival in Lincoln, Neb. Out of the 19 competitors, 13 qualified, and nine will be attending. The profits will go to the students to allow them to experience the weeklong event.
"This is my first time even going to Texas Thespians," CHS junior Angeli Smith said. "This is just something I love doing so much, and the fact I can be good at it and get enjoyment out of it; it's the whole package!"
During intermission, concessions will be available for purchase, and guests can enjoy surprise entertainment. While the show is free, there is a suggested donation of $5 at the door. Show starts at 7:30 p.m. in the CHS Black Box, found at the end of F hall.
"Come support us so [we] can go to internationals and represent Coppell High School," Smith said.