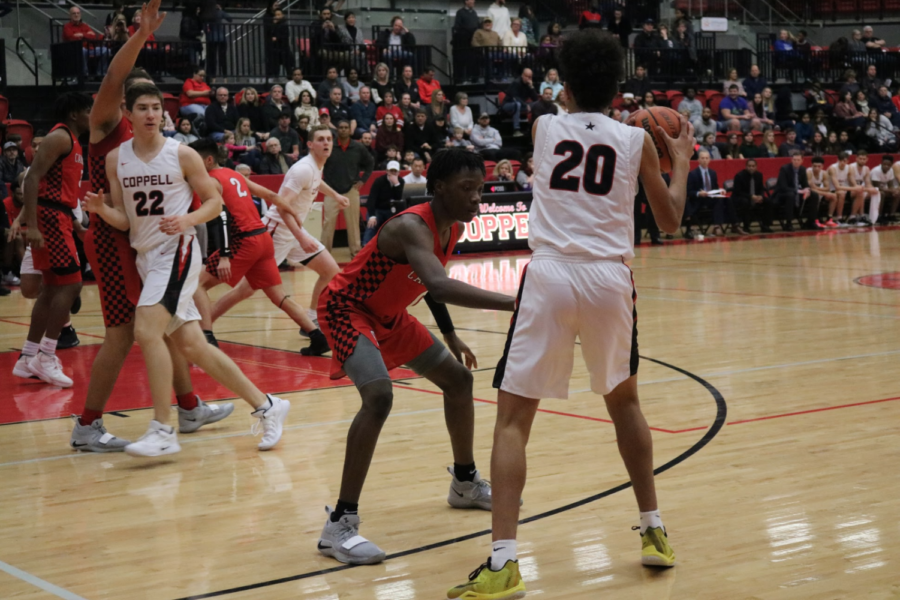 Rishitha Penmetsa
With packed stands and a high-intensity atmosphere the Coppell boys basketball team came out on top of Irving MacArthur, 56-55, in its last home game on Friday at the CHS arena.
The game came down to the last couple minutes with the Cowboys leading and trying to hold off the Cardinals. The Cowboys were successful and stayed on top through the end of the fourth quarter.
Continuing their trend of starting off slow, the Cowboys were down 29-26 at the half. The Cardinals did not have trouble finishing shots and the Cowboys struggled defensively.
"I don't think we started off very well," Coppell senior forward Carter Kryzak said. "Starting slow and finishing strong has been a trend for us this season."
Coming out of the half, the Cowboys gained momentum and started creating more opportunities for shots. The Cardinals had no trouble keeping intensity on the offense and matched the Cowboys score to tie the game at 44 after the third quarter.
"The Cardinals came out strong and took a lot of things away from what we tried to do," Coppell coach Clint Schnell said. "Our guys persevered and they didn't settle for bad shots and got shots when they needed them."
Although it was senior night for the Cowboys, the freshmen stood out on the court and made major plays to keep the Cowboys in the game. Freshman guard Anthony Black made two crucial free throws to tie the game at the end of the third quarter.
"The Cardinals came out, hit shots and kept getting to the rim," Black said. "We had to come out and make adjustments and stop that in the second half.
Tensions raised even higher as the game came close to an end. The crowds getting more riled and each run down the court creating a rumble throughout the arena.
"There were a lot of people here, it kind of felt pressuring with that and knowing it was the seniors' last home game," Black said. "We needed this to win district, so it was just a fun one."
Even with the tense atmosphere the Cowboys were able to slow the game and create calm, calculated offensive plays.
"We focused on pressuring them and moving the ball," senior point guard Tariq Aman said. "We also wanted to outlast their defensive discipline because they are really good defensively."
Even with a slow start to the game, the Cowboys pulled off the victory with a score of 56-55.
This win makes their record 11-2 in District 6-6A. With Lewisville's loss to Flower Mound on Friday, Coppell can clinch the district title with a win Tuesday at Hebron.
Follow Sydney on Twitter @syd218