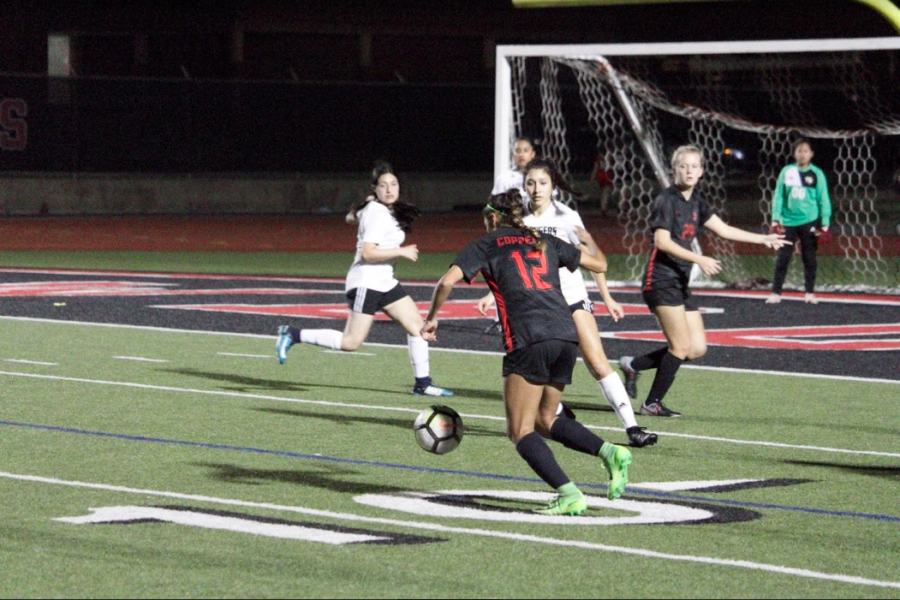 Anthony Onalaja
Last night, the Coppell girls soccer team defeated Irving, 4-0, in District 6-6A action at Buddy Echols Field.
Three of the goals were scored during the first half. The first came from sophomore midfielder Jocelyn Alonzo with an assist from senior forward Rebecca Watley. The following two were both made by Watley, with assists from senior forward Micayla Watley and junior defender Katie Odum respectively.  
The only goal of the second half came from junior forward Alyssa Roemer, with an assist from freshman midfielder Bailey Peek.
Coppell remains the only team in District 6-6A without a loss at 5-0.
The majority of play took place in Lady Tiger territory, with the Coppell offense creating numerous scoring opportunities. The strength of that offense, however, also highlighted their weakness, as most of the shots that were taken did not make it into the goal.
"We created a lot of chances that were quality opportunities," Coppell coach Ryan Dunlevy said. "Our next step is putting those quality opportunities into the back of the net."
The first half of the match consisted of fast play by the Cowgirls. Despite a series of shots hitting the goal post, soaring over the bar and missing the goal altogether, Coppell found enough offensive strength to pull off a 3-0 score by halftime.
"We did a good job penetrating and forcing their back line to be stressed and rush," Watley said. "We really high-pressured them and made them scatter."
The second half had more plays by the defense, as Irving were able to enter Cowgirl territory more. The Lady Tigers had a few scoring opportunities, most notably a free kick that ended up in the arms of junior goalie Lauren Kellett. Both teams had their share of free kicks that night, though none of them resulted in goals.
The beginning of the match before the kick off, where players are introduced and take a moment to high-five their teammates and coaches, was different this time.
For teacher appreciation, each player was allowed to choose a teacher. That teacher would accompany the player during their introduction in the beginning and following run through the team and coach. Selected teachers ranged from AP U.S. history teacher Kevin Casey to CHS9 geometry teacher James Behlen. The teachers then went to the press box for snacks as the match began.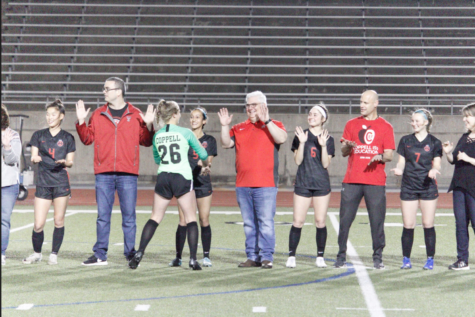 "Teachers do so much for very little money, they do it because of their heart," Dunlevy said. "They love teaching and we want to make sure we appreciate that. I come from a whole family of educators, so I completely understand the time and commitment it takes away from their own family in order to teach their students. We just wanted to take a few minutes to recognize the countless hours that they put in for their students."
The Cowgirls play at Flower Mound at 7:30 p.m. on Friday.
Follow @SidekickSports for more live coverage.